The potential ecological footprint of the travel industry is enormous. According to the Center for Responsible Travel, around 50 million more tourists traveled internationally in 2015 than in 2014. The report also found that the tourism sector today accounts for 5% of global CO2 emissions, and if no action is taken, these numbers could triple by 2035.
One segment of the travel industry is uniquely poised to take the helm of sustainable, responsible tourism: luxury travel companies. When someone refers to luxury travel, classic tropes of extravagance come to mind — exotic, white-sand beaches, state-of-the-art hotels, and the finest food and drinks at the mere wave of a hand. Phrases such as "sustainable" or "eco-friendly" might not seem like they're part of the same world. But this is changing.
Getting Priorities Straight In Luxury Travel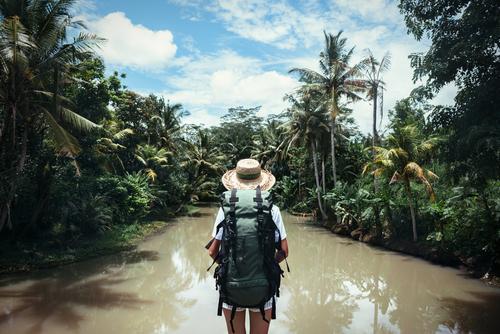 The United Nations has declared 2017 its International Year of Sustainable Tourism for Development and will be working, under this mandate, with governments, international and regional organizations, and relevant stakeholders on the guidelines of the 2030 Agenda for Sustainable Development.
This agenda prioritizes world transformation under headings centered on the development and stimulation of the economy and environmental sustainability.
These targeted areas include:
People: To ensure the end of poverty and hunger, and to ensure that everyone can achieve their potential with dignity.
Planet: To protect the planet from degradation through sustainable consumption and production, management of resources, and acting on climate change.
Prosperity: To ensure all people can live prosperous and fulfilling lives, and progress occurs in harmony with nature.
Peace: To foster peaceful societies free from fear and violence.
Partnership: To mobilize the means to implement this agenda through a revitalized Global Partnership for Sustainable Development.
In terms of revenue potential, the pressure is clearly on for the luxury travel industry to find ways to adhere to these principles. With 12 million high-net-worth individuals (HNWI) amassing a total wealth of $46.2 trillion, the average American HNWI spends over $13,000 per year on travel. Directing that capital toward companies that advocate responsible tourism could lessen our ecological footprint and positively impact the communities that need the most support.
It would seem that this is already starting to happen. Changes in branding and marketing, as well as the fundamental offerings of luxury hotels and travel providers, are leaning more toward sustainability and eco-consciousness. This is evident in a few key areas.
A Greener Home Away From Home
The fact that the term "luxury" is often associated with a disregard for sustainability is not completely unfounded. Many traditional ways for the wealthy to indulge in travel have an astonishingly negative impact, even by simply staying in high-end hotels. In the US alone, the hospitality industry creates 1.9 billion pounds of waste each year, and hotels create more annual CO2 output than 19 volcanic eruptions.
But the luxury travel industry is finding ways to subvert these effects. Traditional modes of travel are being replaced by more modern, environmentally conscious options.
Take, for example, the concept of second-home ownership. Although historically a popular way for the wealthy to spend time abroad, second homes often have a negative impact on local economies and environments; they demand land and resources, and because they are empty for the majority of the calendar, they don't offer economic stimulation in the way permanent residency does.
In fact, the communities of popular second home destinations are speaking out against proposed planning applications for the construction of homes.
A staggering example of the impact of property ownership is the £350 million (approximately $428 million) worth of luxury property left vacant on London's Billionaires Row. Luxury travel providers are preventing this from happening in an innovative way: exclusive clubs offering fractional ownership of luxury holiday homes provide HNWI with opportunities to own equity in the finest property. The shared element means that the properties, and the resources they demand, do not go to waste.
Luxury Eco-Hotels For Responsbile Travelers
In 2015, Booking.com published findings from surveys it had conducted into consumer habits. It found that over half (52%) of travelers were likely to choose a destination based on its social or environmental impact.
Crucially, respondents to the survey indicated that they weren't willing to sacrifice luxury, with 50% of travelers stating they more likely to book luxury accommodations than in 2014.
These findings indicate the priorities of the environmentally conscious luxury traveler, and as a result, high-end hotels are increasingly gearing their branding and services toward these clients.
ITC Hotels is one example. With the slogan "Responsible Luxury," the Indian hotel chain is meeting more than 50% of its electricity demand through renewable sources and treating and recycling enough water to irrigate 60,000 trees annually.
Other hotels, such as Cornwall's the Scarlet, promote donations to support local charities. The Scarlet's Community Fund supports environmental projects like Surfers Against Sewage and CoaST, which researches, promotes, and enables sustainable tourism in Cornwall.
Some accommodation providers to go even greater lengths: the private island of Bawah permits only 70 guests at any one time (despite the presence of three lagoons, 13 beaches, and 300 hectares of land) in order to support its environmental and conservation policies.
Perhaps most extravagant is the upcoming Aman resort in Shanghai. Eleven years in the making, the construction of this elaborate retreat has involved the relocation and restoration of 50 Ming and Qing dynasty villas and 10 thousand ancient camphor trees in order to prevent their destruction.
The implication is that luxury hotels and resorts are increasingly pitching themselves to travelers who, while unwilling to forego the comforts of luxury accommodation, are becoming increasingly aware of the ecological impact of their holidays.
Experiential And Immersive Travel
Booking.com UK Area Manager Jason Grist states, "Sustainable travel is more than 'just going green' — it's also about helping to support and retain local cultures, economies, and environments while traveling."
Grist alludes to one of the biggest ways luxury travel is changing: the move from the material to the experiential. Many modern travelers want life-changing experiences, rather than simply indulging in material extravagance.
Of these, wealthy millennial travelers make up a significant portion: in 2011, the UN estimated that 200 million millennials — nearly 20% of all travelers — generated around $185 billion in revenue for the industry.
That revenue is good news in terms of sustainability when coupled with findings from a Harriss Group study, which states that 78% of millennials would rather spend money on experiences over material things.
Material objects need to be made or built, which requires the use of resources like electricity and results in harmful greenhouse gas emissions. Meanwhile, experiences don't require production — they are intrinsically personal and abstract. For instance, cooking a meal with a local family doesn't have as much of an environmental impact as dining out at a high-end restaurant.
The Center for Responsible Tourism reports that adventure tourism, valued at $263 billion, is one of the fastest-growing categories of tourism that attracts high-value customers, supports local economies, and encourages sustainable practices. It's important to consider, however, that there is still plenty of room for improvement — adventure tourism involves more than just hiking and walking trips, and some activities involving heavy equipment, such as ropes and hooks, still have a detrimental impact on local ecologies.
Voluntourism
With more and more travelers wanting to experience exotic cultures and locations in an immersive, sustainable way, opportunities are emerging for the wealthy to travel while giving something back to the communities and cultures they visit. However, these opportunities need to be scrutinized and carefully monitored. Who truly benefits from such exchanges?
The rise of the popular travel trend voluntourism is most emblematic of this controversy. The principle of contributing to developing communities by building schools, developing wells, or teaching English might seem noble and beneficial. But there is an argument to call for ethical reform — some volunteering efforts have been marred by good intentions. For instance, studies suggest that school-building efforts are better geared toward increasing classroom attendance and providing necessary medication to students.
In following the principles of Fair Trade Learning, travelers can work together with local communities in order to promote lasting change. The Fair Trade Learning model of volunteering advocates engaging only in community-driven development, offering fair compensation, and opening classes for students to audit.
As the world moves increasingly towards sustainability and eco-consciousness, the travel industry — and the luxury travel market — will have to redefine how they cater to their customers.
We care more than ever about the impact we have on our planet. The high-net-worth, environmentally savvy traveler wants the option to visit new lands with the knowledge that, even though they're staying in comfort and luxury, they're not causing a negative ecological impact.
It is exciting to realize that, as we move forward into this new world of travel, the opportunities to improve the planet are only going to expand.