Ashes to ashes, dust to ... diamonds? When your loved one dies, you decide whether to dispose of their body via cremation or burial. Now, if you opt for cremation, you have a more glamorous alternative to turning your loved one into a pile of ashes: transforming them into a diamond.
Wait a minute. A diamond made from humans?
That's right! Synthetic diamonds are produced from compressed and heated ashes of carbon materials. Since humans are natural organisms, their cremated remains contain carbon — which means their ashes can be converted to a precious gem.
Founded in 2004, Algordanza Memorial Diamonds is a Swiss company that now has clients in 24 countries. LifeGem is one of many American companies that offers the same services in the US.
How Do Human Ashes Turn To Diamonds?
Rinaldo Willy, Algordanza's founder and CEO, says there are four steps to the company's "memorial diamond" creation process:
A chemical agent is used to extract carbon from the individual's cremated remains.
The carbon is heated to high temperatures to convert it to graphite.
The graphite is placed on a machine that mimics the high heat and pressure of the Earth's upper mantle, where natural diamonds form. The graphite material is compressed and heated (at 2,500°F) for weeks or months — hundreds of millions of years faster than the rate at which diamonds are produced in nature.
A human diamond is formed! Once it cools, the client can have it ground and cut to shape, or even engraved with a laser.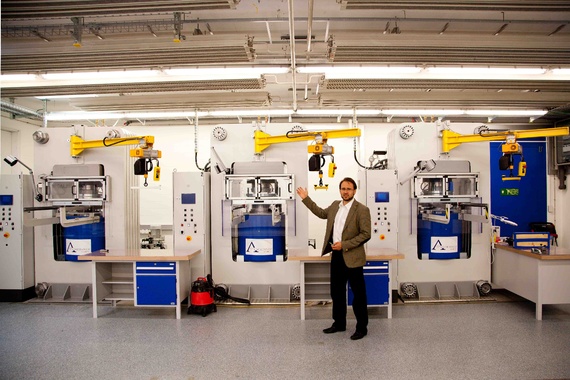 Source
How Big Are Human Diamonds?
The size of a human diamond depends on the amount of ashes you contribute and the amount of time you let the ashes sit in a high-heat diamond press. The more time the ashes are given to compress, the bigger the rough diamond grows.
Chemists at Algordanza need about 17 ounces of human ashes to extract the two grams of carbon necessary to make a diamond. After it's cut, the average "memorial diamond" comes out to about 1 carat. In some cases, however, Algordanza's cremation diamonds have come out to as large as 1.6 to 1.8 carats!
What Do Memorial Diamonds Look Like?
Most diamonds have a bluish color because the human body contains traces of the chemical element boron. Sometimes, though, a diamond comes out as white, yellow, or even black.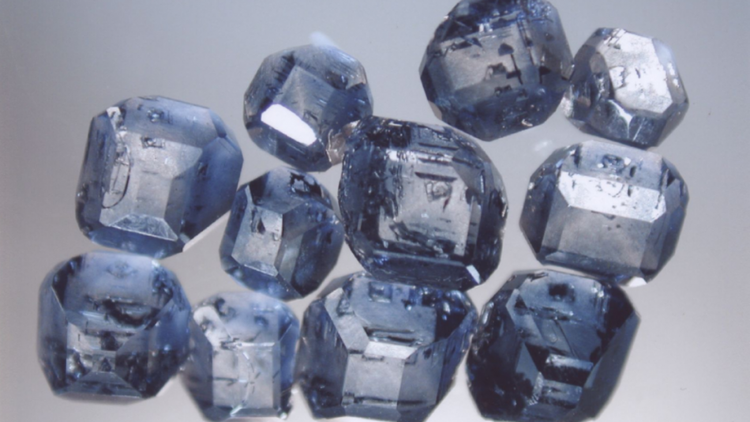 Source
How Much Does A Cremation Diamond Cost?
The process costs between $5,000 and $22,000, depending on the diamond's size. Once diamonds have been cut, clients can pay to place them in almost any setting: rings, pendants, earrings, etc.
Each year, Algordanza transforms more than 800 people into precious gems. Willy says most European clients use the diamonds for jewelry, while Asian clients turn them into pendants. About a quarter of his customers are from Japan, since more than 99% of Japanese people are cremated after death.
Why Buy A Human Diamond?
Many clients are family members who want to keep their loved ones around after they die. Others are terminally ill and want to live on as an indestructible gem. Others want to avoid the high costs of a funeral burial, or they don't want to rely on someone else to manage their grave after they're gone.
Source
Plus, human cremation diamonds are a safer alternative to traditional American burial practices that negatively impact the environment. Embalming fluid, for instance, usually contains formaldehyde, a hazardous carcinogen that causes respiratory problems and can even lead to cancer. Once the embalmed body decays in the ground, the embalming fluid and metals used in the casket's construction can seep into the surrounding soil and water ecosystems.
Cremation is not as clean as a "green burial," which uses a biodegradable casket and no embalming fluids, because it still releases carbon monoxide and other pollutants into the atmosphere. However, the cremation and diamond-making process has far fewer harmful environmental effects than a traditional ground burial.
Shine Bright Like A Diamond?
Land shortage, an increasing population, and negative environmental impacts have brought into question the traditional burial practices used in the US. Does the answer to future burial practices lie in precious gems? If Rihanna had her way, you and your loved ones would actually become diamonds in the sky.