A recent report from the US Department of Energy found that the price of utility-scale solar power has dropped 64% since 2008, and distributed solar costs have fallen by 54%. Even better is that this dramatic decline comes as technology, manufacturing, and installation methods improve — so as panels become more efficient, they cost less to produce!
To help put the cost into perspective, let's look at a recent 100 megawatt (MW) solar project in Nevada that was recently submitted for approval. This project would generate electricity at a rate of $0.04 per kilowatt-hour (kWh). Once approved, the proposed solar project would provide enough energy to close a coal-fired power plant almost a year earlier than expected. The price of $0.04 per kWh is not only the lowest price for a US solar farm to date, but is also much lower the cost of electricity for a new natural gas, nuclear, or coal power plant.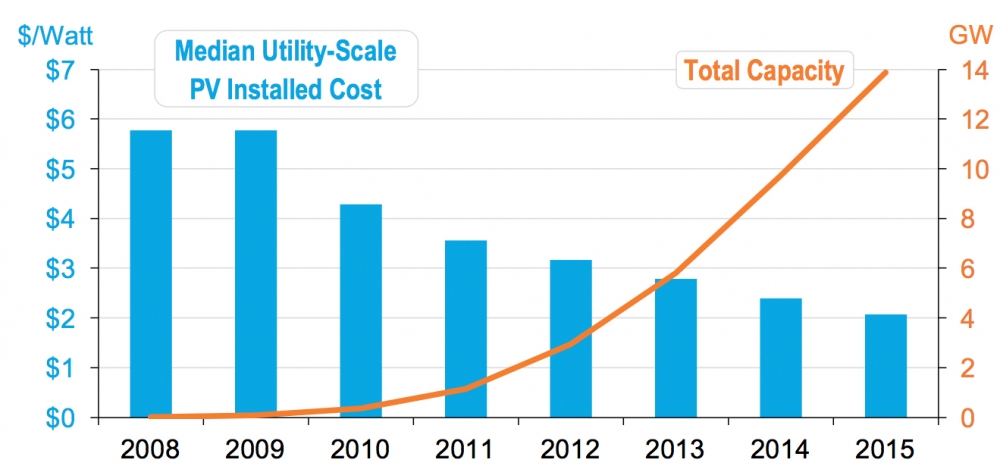 While residential solar prices haven't dropped as low as utility-scale systems, the 50% drop coupled with opportunities through third-party solar leasing companies has had a clear impact on solar installation trends. The DOE reported that there are more than one million distributed photovoltaic systems installed in US homes and businesses.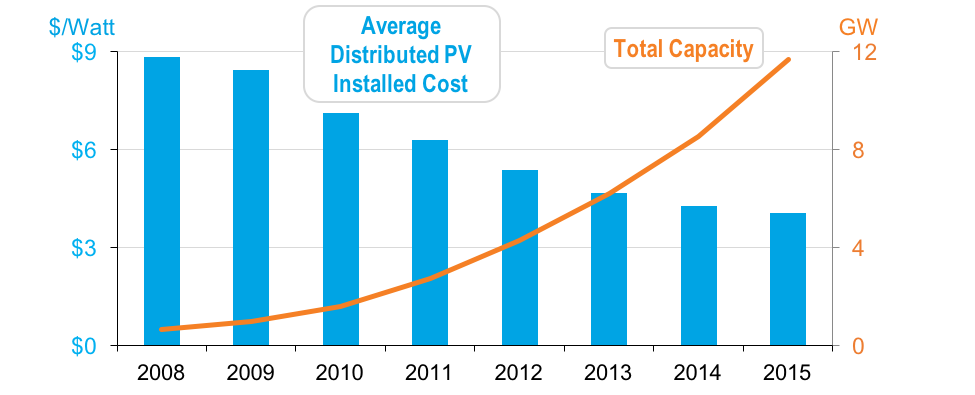 This allows solar power to compete with conventional energy generation in parts of the US, both in large scale and residential solar energy systems. While solar is currently responsible for a small percentage of overall US energy, the multifaceted, positive impact of these drastically lowered costs is conclusive. Assistant Secretary for Energy Efficiency and Renewable Energy David Friedman, recently wrote:
"As these clean technologies are broadly deployed there is a reduction in the emissions that contribute to climate change, the air we breathe is better quality because of a decline in air pollutants, and we are expanding economic opportunities for American workers and manufacturers. In 2014 the manufacturing sectors for wind turbines, photovoltaic panels, lithium ion batteries, and LEDs have added $3.8 billion dollars in value to the U.S. economy."
The positive trends in solar power are just a portion of the findings from the DOE's recent report on clean energy in the US. To find out how wind, LED lighting, and electric vehicles are supporting the clean energy movement, check out the full 2016 Revolution ... Now report here.