In the past month, we watched four debates in which Democrats and Republicans discussed the future of our country. In those six hours of television, amongst all the bullying and insults, the candidates laid out their views and plans for important issues: foreign policy, the economy, political scandals. But for all the topics that were tackled, a critical one was missing.
Just this week, NASA research confirmed that we're continuing our three-year streak of becoming the hottest year on record. Earth's carbon dioxide levels have reached the point of no return. Climate change is contributing to the number of acres burned by wildfires, the increase in major hurricanes, and the very real risk of a mega-drought.
Our country is quite literally burning, yet there was not a single question on climate change during the debates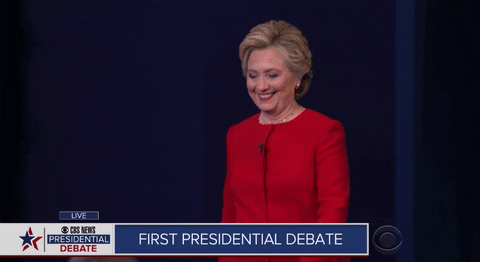 Climate change was brought up in passing, but it was nearly always in the context of the economy and creating jobs:
In the first debate, Hillary Clinton called out Donald Trump for calling climate change a "hoax invented by the Chinese." Trump denied the accusation, despite his verified Twitter account saying otherwise.
In the second and third debates, Clinton mentioned climate change in the context of creating jobs around clean energy.
In the second debate, Trump continued to perpetuate the myth of clean coal.
Tim Kaine mentioned fighting climate change very briefly when he discussed why he was proud to be Clinton's running mate.
It was in the second debate where the candidates came the closest to directly discussing climate change.
Audience member and future meme Ken Bone asked: "What steps will your energy policy take to meet our energy needs, while at the same time remaining environmentally friendly and minimizing job loss for fossil power plant workers?"
Here's an abbreviated version of how each candidate responded:
Trump: "We are killing — absolutely killing our energy business in this country. Now, I'm all for alternative forms of energy, including wind, including solar, et cetera. But we need much more than wind and solar."
Clinton: "So I have a comprehensive energy policy, but it really does include fighting climate change, because I think that is a serious problem. And I support moving toward more clean, renewable energy as quickly as we can, because I think we can be the 21st century clean energy superpower and create millions of new jobs and businesses.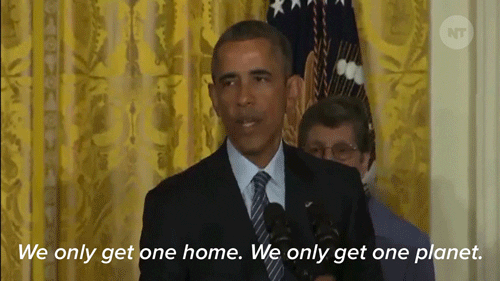 Disaster Waiting To Happen
Failure to act on climate change will have a disastrous effect on not only our nation, but also our planet.
Here's where the candidates stand on a few key environmental issues:
The existence of climate change: Clinton believes climate change is real, while Trump believes it's a hoax.
Hydrofracking: Both candidates support this; however, Clinton believes it should not be done in populated areas.
EPA: Trump wants to cut funding, while Clinton wants to keep it as is
Climate change is serious, and unless we take action, it will only get worse: Water supplies will vanish, millions of people will go hungry, and entire cities will be under water.
The next president will have the power to make policies that could help alleviate the effects of such disasters, so it's important to understand where the candidates stand on environmental issues before you cast your ballot Nov. 8.
(Header image courtesy of NBC News video)