It was William Burroughs who popularized the cut-out technique during the '50s and '60s. He would write words on scraps of paper, scatter them over his shoulder like confetti, and then make poetry by reading out the words that fell together. It was a great literary technique. Too bad it doesn't work so well when it comes to politics.
Trump is a fan of the cut-out technique — although he's stringing together policy, not poetry. And when it comes to renewable energy, Trump's scatterbrained approach is a legitimate threat to ... well, every living organism on planet Earth.
Up until the final moments, the debate was a wash. Trump loomed, sulked, pouted and bellowed, while Clinton attempted to discuss policy over the shouts of someone threatening to use his political power to have her jailed. FYI, Donald — that didn't work out so well for Nixon, or y'know, North Korea.
Ken Bone: What steps will your energy policy take to meet our energy needs, while at the same time remaining environmentally-friendly and minimizing job loss for fossil power plant workers?
The internet instantly fell in love.
And the winner of the second presidential #debate is... Ken Bone https://t.co/4Gbbw45j0x https://t.co/OfTk0eWjrg

— CNN (@CNN) October 10, 2016
As much as we would like to dedicate a full post to Ken Bone, the real MVP of last night's debate, we need to dissect Trump's word salad to see what this means for renewable energy. Pour yourself a drink.
Trump: Such a great question because energy is under siege by the Obama administration. Under absolute siege.
FALSE: The biggest oil boom in our nation's history happened under the Obama administration — a 74% increase in production, to be exact. It's also worth mentioning that Obama has done a huge amount for clean energy solutions at the same time.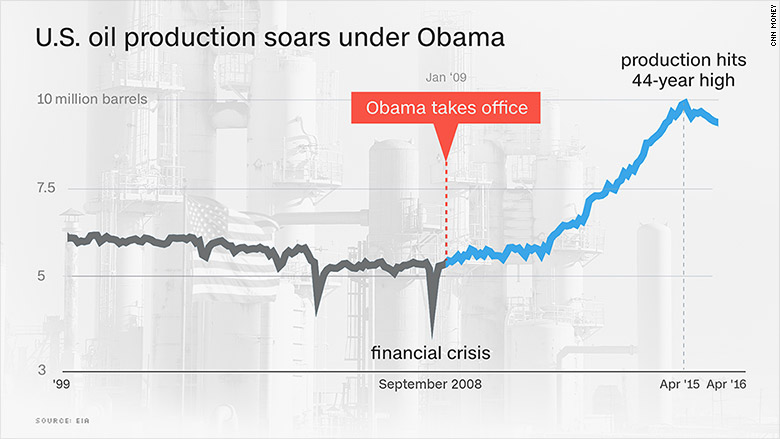 Trump: The EPA, Environmental Protection Agency, is killing these energy companies. And foreign companies are now coming in. Buying so many of our different plants and then rejiggering the plant, so they take care of their oil. We are killing, absolutely killing our energy business in this country.
FALSE: Actually, the US became a global leader in oil production, beating out Saudi Arabia and Russia while President Obama sat in the Oval Office. The EPA ensures that people like Trump, who has vast amounts of money invested in fossil fuels both foreign and domestic, can't use money to bludgeon their way out of conducting environmental impact surveys. Without the EPA, we would have to trust people like Trump to ensure that communities have access to clean water while keeping an eye on climate change. Good luck with that.
Trump: Now I am all for alternative forms of energy including wind and solar, etc. But we need much more than wind and solar. And you look at the miners, Hillary Clinton wants to put the miners out of business. There is a thing called clean coal. Coal will last for 1,000 years in this country. Now we have natural gas, and so other things because of technology, we have unbelievable, we have found over the last seven years, we found tremendous wealth right under our feet. So good, especially when you have $20 trillion in debt.
Okay. Let's unravel this.
Clean coal is not a thing. There is no such thing as clean coal. Clean coal has frequently been debunked as greenwashing, and just because you put a word in front of another word does not mean that it is true.
Clean coal theorizes that it can trap deadly toxins like sulfur dioxide, nitrogen oxide, and mercury before it enters the atmosphere. But clean coal plans to do nothing about CO2 (carbon dioxide) because it's too expensive. CO2 is the most lethal contributor to global warming. Burning coal has released enough carbon dioxide to elevate our atmospheric carbon levels above 400 ppm. They will never return below this figure.
If we continue to dump CO2 into the atmosphere at the current pace, say goodbye to New York, Miami, and New Orleans thanks to rising sea levels that will consume coastal areas by 2050. The remaining areas will be battered by superstorms caused by global warming — storms that will dwarf Hurricane Matthew and Katrina by comparison. The economy will tank, and terrorism will rapidly expand as the world's poorest areas will be left with crippling droughts and a hemorrhaging food supply. Who we elect next will decide the fate of the world, perhaps more literally than one would care to consider. But as a reminder:
Clean coal, like most of what Trump says, is a lie. Back to rest of his speech:
Trump: I will bring our energy companies back and they will be able to compete and they'll make money and pay off our national debt and budget deficits which are tremendous.
How?
Trump: But we are putting our energy companies out of business.
FALSE: See energy export data earlier in this article. Thanks, Obama.
Trump: We have to bring back our workers. You take a look at what's happening to steel and the cost of steel and China dumping vast amounts steel all over the United States, which essentially is killing our steelworkers and steel companies.
Trump knows something about the steel dumping, thanks to his invoices. He bought it. From Newsweek:
"A Newsweek investigation has found that in at least two of Trump's last three construction projects, Trump opted to purchase his steel and aluminum from Chinese manufacturers rather than United States corporations based in states like Pennsylvania, Ohio, Michigan, and Wisconsin"
Yet he still says this, despite literally taking business away from US based steel corporations:
Trump: We have to guard our energy companies, we have to make it possible. The EPA is so restrictive that they are putting our energy companies out of business. And all you have to do is go to a great place like West Virginia or places like Ohio which is phenomenal or places like Pennsylvania and you see what they are doing to the people, miners and others in the energy business. It's a disgrace. It's an absolute disgrace.
In summary:
This election is critical in deciding how we tackle climate change. Do we make transitions to clean power, or do we take Trump's favorite stance (see: Aleppo) and say that Earth has fallen, too?
Trump's cut-out style of policy should frighten a rational human being. But given his propensity to flip-flop, there's an iota of a chance he might make a grab at renewable energy. I wouldn't bank on it, though.
Let's grab RENEWABLE ENERGY by the pussy!!!

— Megan Amram (@meganamram) October 9, 2016