More than 300 million children — nearly one in seven — live in areas with toxic levels of air pollution, according to a new UNICEF study.
Researchers studied satellite imagery of outdoor air pollution over a three-year period. They discovered that hundreds of millions of children live in areas where pollution levels exceed international guidelines by at least six times.
Exposure to toxic levels of air pollution has serious effects that begin while a child is in the womb, and follow throughout the child's life.
"Air pollution is a major contributing factor in the deaths of around 600,000 children under five every year — and it threatens the lives and futures of millions more every day," UNICEF Executive Director Anthony Lake said in a statement. "Pollutants don't only harm children's developing lungs — they can actually cross the blood-brain barrier and permanently damage their developing brains — and, thus, their futures. No society can afford to ignore air pollution."
Air Pollution Facts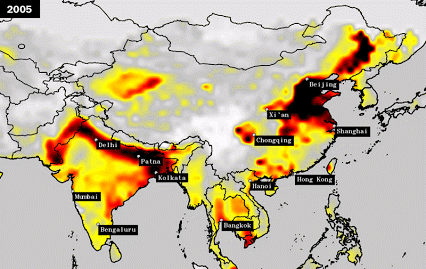 Around 2 billion children live in areas where pollution is higher than the minimum air quality guidelines set by the World Health Organization, the study found. This number includes the 300 million who live in the most polluted areas of the world.
Here are more air pollution facts from the study:
Outdoor air pollution in urban areas has increased by 8% between 2008 and 2013
Just short of 1 million children die from pneumonia each year, and more than half of those cases are directly related to air pollution
Air pollution was linked with one out of every eight deaths globally — around 7 million people — in 2012
Outdoor air pollution could raise the mortality rate for children under five between 50% and 100% by 2050
The majority of total deaths attributed to air pollution occur in Asia
Air Pollution Effects
According to the study, young children even more susceptible to the dangerous effects of toxic air. Because children's lungs, brains, and immune systems are still growing and developing, they breathe twice as fast as adults, taking in more air per pound of body weight.
Long-term exposure to air pollution can also lead to the following effects:
For pregnant women, long-term exposure is linked to a higher risk of miscarriage, preterm delivery, and lower birthweight
Emerging evidence states toxic air can disrupt children's physical and cognitive development
Exposure to pollution could reduce a child's lung capacity up to 20%, making it more likely they'll have respiratory problems throughout their lives
Air pollution is strongly associated with respiratory conditions, such as pneumonia, bronchitis, and asthma
What We Can Do
There are four urgent steps we can take to protect children from air pollution, UNICEF said:
Reduce air pollution
Minimize children's exposure to air pollution
Increase children's access to healthcare
Monitor air pollution and its impact on children's health
The best part? Each of these steps yield positive effects beyond healthy children. The steps we take to reduce air pollution can also work to grow economies and fight climate change, the study mentions.
"We protect our children when we protect the quality of our air," Lake said. "Both are central to our future."