Less than one week after Hurricane Matthew tore up the Florida coast, Hillary Clinton and Al Gore held a rally in Miami and spoke at length on climate change and environmental issues.
Tuesday's event marked a notable appearance for the former vice president, who has largely remained out of the political spotlight following the 2000 election. In the past decade, Gore has become a prominent environmental advocate, winning a Nobel peace prize in 2007 for his work.
Clinton and Gore's remarks linked Hurricane Matthew to climate change, in addition to discussing the science behind rising sea levels and its relation to the devastating effects of storm surges, among other environmental concerns, according to news reports.
"Hurricane Matthew was likely more destructive because of climate change," Clinton said at the event. "Right now the ocean is at or near record high temperatures, and that contributed to the torrential rainfall and the flash flooding that we saw in the Carolinas. Sea levels have already risen about a foot, one foot, in much of the southeast, which means that Matthew's storm surge was higher, and the flooding was more severe."
"It spun up from a tropical storm into a Category 5 hurricane in just 36 hours. That's extremely unusual," Gore added.
The intensity, duration, and frequency of the strongest hurricanes have all increased since the 1980s, according to The National Climate Assessment. As global warming increases, these effects will continue to intensify.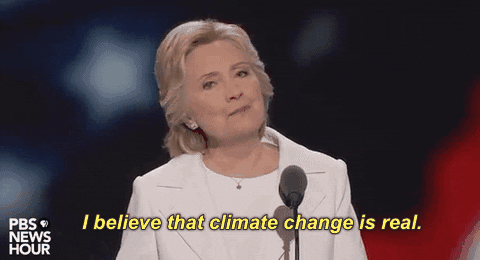 Clinton also highlighted the environmental damage a He-Who-Must-Not-Be-Named presidency could bring to the country, before the pair urged Americans to vote Nov. 8.
"He doesn't care what it does to the planet, he doesn't care how much that would damage American leadership, he doesn't care about the future we leave our kids and our grandkids," Clinton said of her Republican rival.
One of the GOP candidate's most famous statements on climate change is calling it "a hoax invented by the Chinese," an assertion he later denied.
The concept of global warming was created by and for the Chinese in order to make U.S. manufacturing non-competitive.

— Tom M. Riddle (@realDonaldTrump) November 6, 2012
You-Know-Who has also vowed to dismantle President Obama's Climate Action Plan and cancel the Paris Climate Agreement, and he advocates the use of "clean coal."
"Take it from me," Gore said. "Every single vote counts."
(Header Image Courtesy Of CNN Video)