Dear reader, would you rather buy 15 different, overpriced, over-packaged beauty products to get clear skin, luscious hair, and white teeth — or, buy a jar of unrefined organic coconut oil, and slather it all over your life?
The beauty industry has noticed the consumer trend in wanting simple, straightforward products that still reap the benefits they promise. But in order to really trust the lotions, masks, and goop that you use to beautify, you'd have to research all 43 of the nine-syllable ingredients included in your "simple and natural" products. I have a better idea: use coconut oil — you know, a product 100% derived from nature!
Use Organic, Raw Coconut Oil
Since coconut oil is naturally antibacterial and antifungal, it is ideal for moisturizing skin and hair. But those benefits only apply if you use organic, raw coconut oil, which is extracted from fresh coconut meat, instead of refined coconut oil — which comes from dried coconut.
It seems like there's a never-ending list of beauty uses for coconut oil, so we've rounded up 15 tried-and-true ways to treat yourself with this tropical, all-purpose powerhouse!
How To Use Coconut Oil For Skin

1. Use coconut oil as a cleanser to wash your skin and moisturize at the same time! You can mix it with essential oils or raw honey to boost its antioxidant powers.
Up next: Put down the overpriced serums and creams.
2. If you've spent time trying to combat oily skin, I know it's scary to put oil onto your skin, but it really works. At bedtime, rub a quarter-sized amount on your freshly cleaned face and let it sit for five minutes. After five minutes, wipe off any excess and get to bed!
Up next: Get that elusive silky skin of your dreams — finally!
3. What's good for your face is even better for your body! Post-shower, liberally apply coconut oil all over your body, focusing on rough areas like elbows, knees, and feet. Just make sure to moisturize your feet last, and sit down so that you don't slip!
Up next: Say goodbye to your racoon eyes ... forever!
4. Scoop a small dab out of the jar and gently rub it onto your eyelid in a circular motion. Once your eye makeup has loosened, wipe it away with a damp cloth or cotton pad.
Up next: What are you going to do with all the money you save on beauty products?
5. After wiping off your eye makeup, keep that coconut oil close by and dab just a bit around the eyes to act as a nighttime wrinkle cream. Let it sit overnight, and be sure to wash your face before applying makeup in the morning.
Up next: Coconut oil is God's gift to thighs.
6. Mix 1 tablespoon of coconut oil with 10 drops of your favorite essential oil and firmly massage in a circular motion wherever the dimples may be! Then use a dry brush to help stimulate circulation.
Up next: Coconut oil shaving cream might just make shaving bearable.
7. Raw coconut oil works great as shaving cream and helps to prevent ingrown hairs, razor burn, and general irritation on the areas where you shave. It's completely safe for anywhere from your underarms to your bikini line.
Up next: Don't be ashamed, we ALL suffer from these!
8. To really stop those pesky, painful ingrown hairs, work in some coconut oil after bathing. The oil softens skin so that the hair can grow through the follicle, and it kills bacteria at the same time.
Up next: Yet another reason to pack it in your suitcase.
9. If you spent a bit too much time in the sun, gently rub coconut oil on the burn to soothe pain and promote healing. Since coconut oil can be solid at room temperature, make sure to warm it up in your hands so that it goes on smoothly and doesn't pull your delicate, burnt skin.
Up next: Silky skin? Check. Luxuious locks? Check.
How To Use Coconut Oil For Hair
10. Coconut oil penetrates your hair shaft, so it moisturizes and strengthens hair from the inside out. The oil's antifungal properties get rid of dandruff, and the vitamin E and lauric acid proponents keep your hair healthy and strong — while providing a nice shine! There are tons of recipes for coconut oil hair masks, so you can pick whichever one appeals to you!
Up next: Seriously, is there anything coconut oil can't do?
Other Beauty Uses For Coconut Oil
11. Regardless of the brand, personal lubricants contain lots of chemicals that can wreak havoc on the delicate balance of bacteria that live inside our bodies. Coconut oil has the consistency needed for lubricant, and it also has antifungal, antibacterial, and antimicrobial properties. Plus, it smells like a day at the beach, minus the sand. Note: don't use coconut oil with latex contraceptives — the coconut oil can degrade latex.
Up next: Take a deep breath and relaaaax!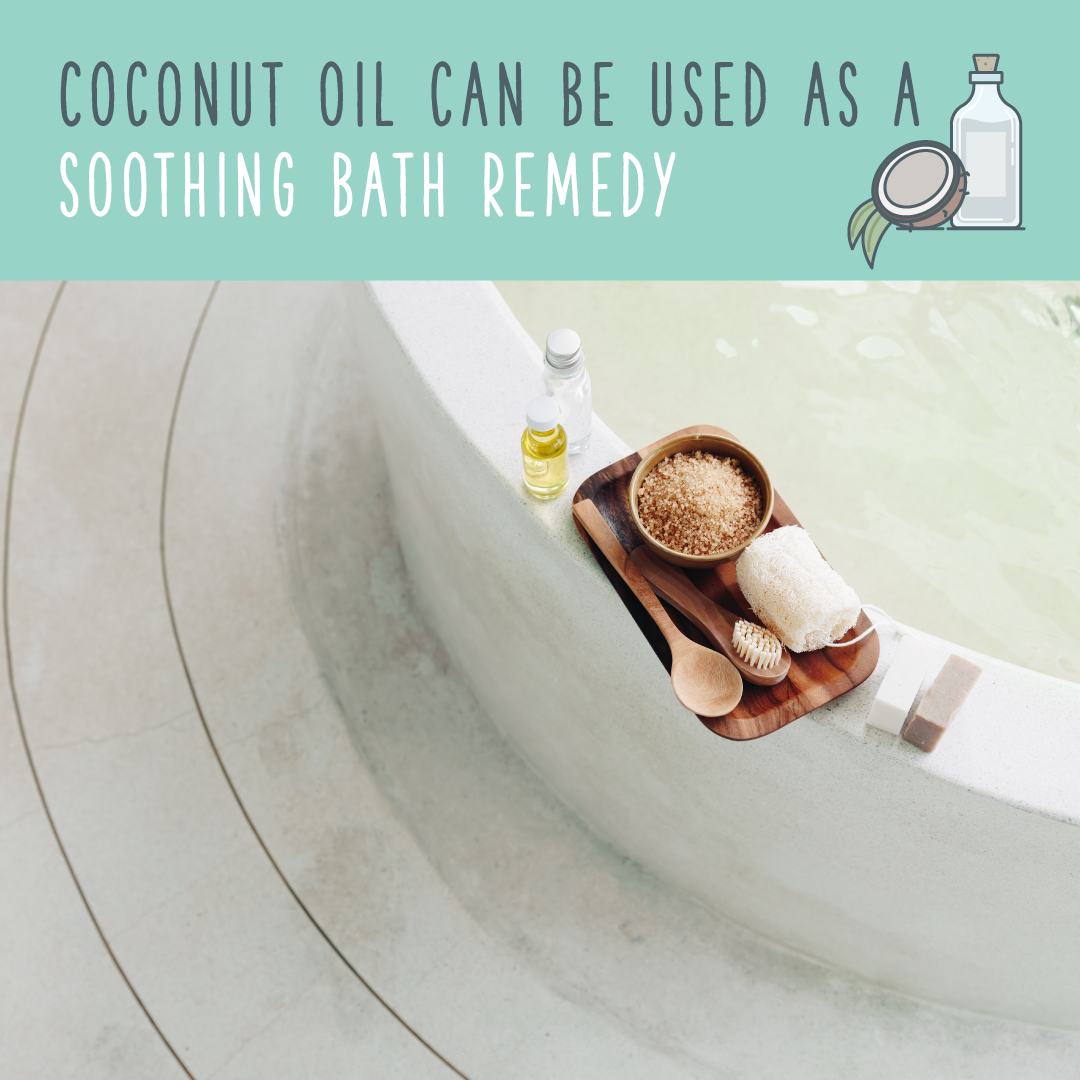 12. Taking a warm epsom salt bath is a great way to soothe achy muscles. If you add one-quarter cup of coconut oil to your bath, you'll also moisturize and soothe your skin as you soak. You can also add your favorite essential oils, like lavender, to help you prepare for sleep.
Up next: You can basically throw out everything in your bathroom.
13. Who wouldn't want to smell like coconuts? Mix in a bit of sugar, or ground coffee beans, to your raw coconut oil and you've got an all-natural exfoliator to use on your bod — or your face, depending on your skin type.
Up next: Upgrade your manicure routine + smell delicious!
14. Soothe cracked cuticles with a touch of coconut oil. Swipe a bit and rub into each nail bed, focusing on the cuticle area. Soft cuticles not only make your hands look well-groomed, but they help prevent cuts and hangnails. Using coconut oil to soften cuticles also helps avoid the risk of fungal infections.

Up next: Your soft skin and silky hair mean nothing if you have horrendous breath.
15. Mix together equal parts baking soda and coconut oil, then add in a few drops of peppermint essential oil. Your gums and fresh, fungus-free breath will thank you.
What do you think: is coconut oil a go, or a no? Share your favorite ways to use coconut oil in the comments!