Although humanity invented the notion of excess, our basic needs have always remained relatively simple — until recently.
Food, clothing, and shelter form the anthropological pyramid of survival, so it's somewhat ironic that the manufacture of all three is putting an unreasonable burden on the environment. Unsustainable agriculture (cow farts, specifically) is ripping a hole through the atmosphere. 20% of global industrial water pollution is caused by the treatment and dyeing of textiles.
The trailblazers of previous centuries didn't have to concern themselves with sustainable building practices — or the issue of a burgeoning population. Construction is responsible for 4% of particulate emissions, and is a huge contributor to water pollution. The average US home contributes 7.5 tons of CO2 equivalents per year through squandering fossil fuels and electricity.
In light of pressing issues like climate change and land shortage, using sustainable practices and conducting in-depth environmental research is absolutely essential. After all, one neglected environmental impact study can leave everyone red-faced — quite literally, in the case of architect Rafael Viñoly, who designed not one, but TWO buildings which inadvertently doubled as towering death rays.
Viñoly designed the Vdara hotel, which has a dazzling face of concave glass looking out on the Las Vegas strip. Unfortunately, although aesthetically pleasing, the sun's rays bounce off the curved glass and turn into a concentrated beam of heat. In 2010, it boiled the swimming pool, burnt a guest's hair, and melted everything plastic that crossed its glare.
The lesson was not learned. When Viñoly built London's "Walkie-Talkie" skyscraper in 2014, he utilised the same concave design. After a car melted, a local shop's carpet nearly caught on fire, and gusts of wind swept unsuspecting city slickers off their feet — a frantic redesign in the form of a giant sunshade was quickly erected. Public perception, however, was permanently marred, and the building earned the nicknames "Walkie-Scorchie" and the "Fryscraper."
The age of careless design is over. Green building must be the future.
The EPA has defined green building as structures designed to reduce environmental impacts. They do so by efficiently using resources like energy and water, protecting human health, and reducing pollution, environmental degradation, and waste.
Structures like tiny houses and prefab homes have been commended for reducing emissions, but in light of the threat of overpopulation, it's a short-term solution. So, what does the future of green building look like?
Italian architect Paolo Soleri coined the term "arcology" as a portmanteau of architecture and ecology. Soleri was a visionary who imaged future cities built vertically, rather than horizontally. This perspective shift has several important benefits for the environment.
By building cities higher, we can accommodate more people without encroaching on neighboring ecosystems, such as natural parks and forests. In following Soleri's vision, this hyperstructure, or vertical city, would be self-sustainable. Food production, sewage treatment, air purification, climate control, and power would take place within the structure. Humans could live within the skyscraper city without ever needing to leave, thus reducing carbon emissions from transportation. Instead of vehicles, a mass of sky bridges, cordless elevators, and cloud walkways would create a village amongst the stars.
Soleri's vision has yet to manifest in a real-world application, although other prominent architects are paving the way for exciting new superstructures that could revolutionize the way we live.
Architects Kenneth King and Kellogg Wong established Vertical City — a not-for-profit organisation intent on stirring the conversation about building a sustainable hyperstructure. They've created a book and a documentary in which they interviewed over 30 top architects, engineers, sustainability and transportation experts, microbiologists, and urban designers in order to propose what the vertical city of the future may look like.
China is currently leading the race toward actually building a vertical city. With over a million people living within 140 megacities, China is one of the most densely populated countries on Earth. In contrast, America only has nine cities with over a million residents. Building mass sustainable housing is a pressing issue in Asia, and the race is on to pave the way forward.
Architecture firm Gensler has already built the Shanghai Tower, which is the second-tallest building in the world after Dubai's Burj Khalifa. But both the Shanghai Tower and the Burj Khalifa would be dwarfed by a cloud city proposed in a recent competition.
Shenzhen lies just outside of Hong Kong, and is one of the areas most in need of sustainable architecture that can house a rapidly expanding population. Urban Future Organization and CR-Design won the highest award at a competition seeking designs to renovate the Shenzhen Bay.
The design envisions an immense hyperstructure called Cloud Citizen, which is made up of several different skyscrapers interconnected by a labyrinth of bridges and walkways.
Cloud Citizen would be a sprawling, interconnected, vertical city composed of three skyscrapers, several cultural buildings, and lush greenery. Landscaping would be an important factor in Cloud Citizen, with each "skypark" acting as a "green lung." Each park functions as a sanctuary for wild plants, and supplies inhabitants with a fresh supply of food without any transportation emissions. The building is also designed to collect rainwater and use solar, wind, and algae as its primary source of power. Additionally, Cloud Citizen's design can store carbon — in addition to filtering pollutants from the air.
Cloud Citizen is still a concept rather than a plan. But Vincent Callebaut, an ecological architect and visionary, has plans to complete construction on a vertical village near New Delhi in India before 2022. Named Hyperions, Callebaut's village is self-sufficient and sustainable, and it will be fitted with the latest technology to utilize wind and solar energy. Inhabitants will be able to grow their own crops, and the village will contain several small farms complete with livestock.
Vertical Farming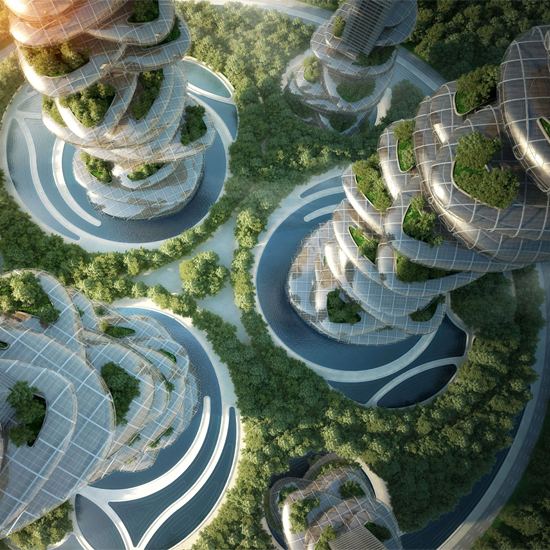 Lloyd Alter of Treehugger is skeptical of contemporary vertical farming. Stacking crops under artificial light may yield more produce, but the energy expenditure doesn't fall inside the green zone.
However, humanity can't turn a blind eye to the matter of population. Either we build up, or we span out. Spanning out will push farms further and further away, increasing transportation emissions and eventually turning the entire world into a mass city. To keep our planet green, we need to find alternatives. Current agricultural practices take up huge swaths of land, and with an estimated population boom of 50% in the next century, there won't be enough land — let alone food — for anyone.
Fortunately, most plans for vertical cities have a potential solution to an impending crisis: farmscrapers.
A vertical farm could be a greenhouse — and a skyscraper. Produce would be grown using hydroponics and aquaponics, and livestock may populate expansive outdoor balconies. Callebaut drew up the schematics for an urban vertical farm in New York City named the Dragonfly.
This self-sustaining superstructure would span 132 floors and 600 vertical meters. Running on wind and solar energy, it could accommodate 28 agricultural fields, including meat, dairy, fruit, vegetables , and grains.
Despite concerns about sustainability, a vertical farm could produce crops year-round, as opposed to the traditional three seasons. Climatic conditions wouldn't impact production yields, and water consumption could be cut by 70%. A strictly controlled growth environment would eliminate the need for GMOs and pesticides, while almost virtually extinguishing the emissions of transporting produce over long distances.
Seasteading
Overpopulation isn't the only looming crisis poised to strike humanity. Climate change is causing sea levels to rise, and in the next century, a rising sea level could displace thousands of people who will become ecological refugees.
A potential solution to the threat of displacement is another vast expanse of unoccupied space: 71% of the earth's surface is covered by water, yet the ocean has remained uninhabitable. Seasteading could create floating cities that can house hundreds of thousands of people, while being carbon negative. This isn't just a nice idea — Paypal co-creator Peter Thiel is a lead investor in the Seasteading Institute.
Once again, Callebaut has already submitted designs for the Lilypad: a "floating ecopolis" designed to house refugees displaced by climate change.
This amphibian sea city could house 50,000 people. Half submerged and half terrestrial, the Lilypad is designed with three mountains and an artificial soft water lagoon, which would also serve to ballast the structure. The lagoon would collect and purify rainwater in lieu of a desalination plant.
As a zero-emission habitat, the Lilypad wouldn't just run on clean energy — it would work to undo some of the damage caused by previous generations of climate denying polluters.
The "skin" of the island would be made of polyester fiber and coated in titanium dioxide, which would react to ultraviolet rays and absorb atmospheric pollution. The structure would boast residences, gardens, agriculture, and entertainment and shopping facilities, in addition to producing more energy than it consumes.
Japan's Shimizu Corporation has also envisioned an archipelago of lilypad-like floating structures as a carbon-negative solution, which would build a vertical city upon a seastead. Named Green Float, these structures could eventually form an entire country near the equator, where weather conditions are relatively stable enough to house the project.
Russian architectural firm Remistudio has drawn up schematics for a floating ecological "Ark Hotel," which is designed to withstand natural disasters. The shell-shaped structure would use photovoltaic technology to power an internal greenhouse, and it would be totally self-sufficient.
According to the Seasteading Institute, the first floating city may become reality as soon as 2020.
A Green Future
The current state of the world's attitude towards climate change may seem bleak at times, but behind the scenes, a talented pool of inventors and innovators are pathing a way to a greener future for all.
The premise for green building has been around since the late '80s. In 1993, the U.S. Green Building Council was established with the intention of promoting sustainable practices in building and construction. Since then, we have seen radical shifts in how technology impacts the world around us — and in the next 20 years, we can expect to see the next generation following in the green footsteps of thought leaders like Paolo Soleri.
Although these are the years that history may remember as being defined by regressive characters like Donald Trump, we cannot forget the torchbearers who are pioneering the human race into our next epoch. People like Callebaut, Ken King, and Peter Thiel may not occupy the same amount of newsprint as unsavory sorts, but they're working relentlessly to give us — and our children and grandchildren — a sustainable future. Perhaps the world is not yet doomed.
Header Image Courtesy Of Vincent Callebaut