You might be hard-pressed to find a household in the US that doesn't have a squeeze bear of honey tucked away somewhere. Catherine Berry, Marketing Director at the National Honey Board, says Americans consume about 1.3 pounds of honey per person annually. But is all honey created equally?
Honey starts from one place: bees collect nectar from flowers, bring the nectar back to the hive, and put it into combs. Before long, it turns to what we know as honey. However, some beekeepers are finding a consumer demand for something you might not find on store shelves: raw honey.
What Is Raw Honey?
Most honey available in stores has been through a filtration process to sift out any particulates that may have been picked up in the hive. This filtration process can be so refined that it not only gets out any lingering pieces of wax from the comb, but it also collects pollen grains that bees picked up while gathering nectar.
In many cases, the honey is also heated to help it flow through the straining process more easily. This filtration gives honey its uniform clarity and helps stave off the natural crystallization process.
What Is The Difference Between Raw Honey And Regular Honey?
While there is no official definition of raw honey, it is generally accepted as honey that has undergone either minimal or no filtration or heating. Just plugging the term "raw honey" into a search engine will lead you to websites touting it as a miracle cure for a wide variety of ailments.
Kacey Nelson is the owner and operator of Two Million Blooms, a central Illinois-based small business that sells raw honey. Nelson said some of his customers swear by local honey as a remedy for their allergy symptoms, a topical treatment for scrapes or burns, and even as an ingredient in homemade cold preventatives.
While research has yet to back many of these claims, the National Honey Board says honey has been proven to have properties that make it useful as an energy booster, skin cream, and cough suppressant.
When it comes to human benefit, though, it appears raw honey and processed honey are on equal footing.
A 2012 study found that many of the vitamins, minerals, and antioxidants raw honey is often praised for are actually present in both raw and processed honey. Pollen count was the only substantial difference between these two types of honey, and there is a lack of research on whether or not pollen in honey can impact health.
The Real Benefits Of Raw Honey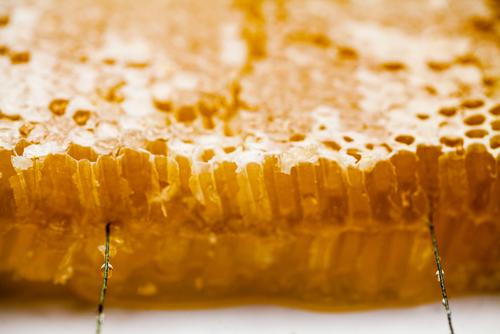 So if the health benefits of raw honey are still under question, what's really driving customers out of the grocery store and out to a local beekeeper? Nelson said it's the taste.
"When my wife and I first tasted raw honey," Nelson said, "we were just blown away by the intense flavor and the aroma … and we looked at each other, wide-eyed, and came to the realization that this must be what honey is supposed to taste like."
Nelson said processed honey can be filtered and mixed to create both a uniform look and flavor so customers always know what they can expect when purchasing honey. However, raw honey can have different flavor profiles depending on the season and the types of plants from which bees collect their nectar. There's even a honey tasting society that covers the many different flavors honey can display.
Beyond the smell and taste, raw honey can look different than processed honey. Since it's not filtered, Nelson said it will be thicker than processed honey. You may find small wax particles in the honey, or it may appear cloudy. Raw honey can also crystallize sooner than processed varieties. Nelson said this is a natural reaction and does not mean the honey has gone bad. Heating the honey should return it to its non-crystallized state.
The artisanal food movement has people seeking new flavor experiences and is pushing many to find local food producers. Honey has not been left out of this movement.
Nelson said, "There's an increased interest by consumers to know where their food comes from and even what's in it." This desire to learn about food can lead to raw honey having the intangible benefit of raising awareness for a very important issue: bee health.
What About The Bees?
Bees have had their fair share of problems in recent times: decreasing populations have been caused by a number of factors, including a lack of food sources.
Tim May — Vice President of the American Beekeeping Federation — runs his family beekeeping operation, which was established in 1948. He said he's currently having issues his family has never had to deal with before. "We've had to give them pollen patties, which are like energy bars for bees," he said. "Even 25 years ago, we didn't do that, but now there's just a lack of forage out there."
May says raising awareness for bee health has been a large issue, especially when it comes to programs or practices people can use to help bees. For farmers and other landowners, programs are being offered though the United States Department of Agriculture and through groups like the Bee and Butterfly Habitat Fund to help establish pollinator habitats.
For urban dwellers, May says there's a more simple solution. "They can let the dandelions in their yard grow," he said. "That's one of the earliest things to bloom, and at that point, the bees are really looking for pollen and nectar."
He added, "One of the easiest things they can do is not spray any chemicals on their lawn … just let the weeds grow."
Nelson said he named his business Two Million Blooms because that is the number of flowers his bees need to collect nectar from in order to make honey. Between the suburbs of manicured lawns, golf courses, asphalt jungles, and acres of non-flowering cropland, it can be a struggle for bees to find nectar.
Nelson said interacting with customers who want to learn about the raw honey they're purchasing usually turns into a conversation about the bees that made it. "Some even start planting flowers," Nelson said, "or using less pesticides, or even getting into beekeeping themselves."
So while raw honey may not a miracle-working super food, it certainly is a tasty way to start a conversation with your local beekeepers about the hardworking bees they care for. As Nelson said, "It's bigger than supporting local beekeepers — it's about supporting pollinators."
For more information on honey, you can visit the National Honey Board's website. To find a local beekeeper, the Local Honey Source is a handy search tool.