It wasn't so long ago that vegan cheese was confined to the far, dusty corners of your local health food store. And at that time, that's where I thought it should stay.
The last time I tried a dairy-free cheese substitute was about a decade ago, in a futile attempt to replicate a diet centered on animal products. This was a mistake for many reasons. I'll never forget the slimy, rubbery, and bitter taste of sliced vegan cheese.
As years passed and the many benefits of veganism became well-known — lower risk of heart disease, lower weight, better for the planet — culinary options have improved immensely.
A sustainable, cruelty-free, and delicious alternative exists for nearly every food you love. Even a homestyle vegan dinner is simple and tasty to create.
As vegan cuisine continues to evolve, so do the quality and variety of foods. It's easy to find milk made from nuts, rice, and other non-dairy ingredients — similarly, cheeses have gone far beyond the tofu and soy-based versions of years past.
How Does Vegan Cheese Taste?
Just as a portobello mushroom cap will never taste like a cheeseburger, cheddar made from almonds won't taste the same as the cheese that my home state of Wisconsin is famous for.
I tried my best to travel blindly into this new world of dairy-free cheese — without my experiences from 10 years ago weighing on my palate. I enlisted the help of some of my Green Future colleagues to join me in noshing on new varieties of cheese. We sampled six different versions encompassing a variety of flavors and proteins.
That said, here's what we liked — and what we didn't.
Daiya Jalapeño Havarti, $4.99
Daiya is perhaps the most well-known brand of vegan cheese. This soy-free, nut-free cheese came close to the dairy version in both flavor and texture.
When melting, this cheese quickly transformed into a runny, liquidy blob, which is worth keeping in mind if you're trying to make something like a grilled cheese or quesadilla.
Where some of the other choices lacked flavor, jalapeños gave this havarti a robust taste that many of my colleagues said could pass for dairy cheese in a blind taste test.
Miyoko Vegan Mozzarella, $8.99
This cashew-based cheese alternative looked like fresh mozzarella in the package, but that's where the similarities ended. When unwrapped and placed on a plate, it "looked like Play-Dough," and wasn't redeemed by its taste.
My colleagues compared it to tile grout, noted its chemical taste, and simply said, "This is not good." Another coworker was more willing to give it credit, saying it has a "weird aftertaste, but the initial taste is good."
My boss summed it up perfectly when she said, "Somebody should be punished for this."
Lisanatti Almond Cheddar, $3.99
This almond-based cheddar is nothing to write home about. While there's nothing revolting about this vegan variety, there's nothing delightful about it, either.
Dairy-based cheddar is typically a firm, rich cheese, and this version was neither. The texture is softer, and it spreads easily across a cracker. Its overall neutral flavor slightly resembles cheddar. An informal poll ranked it right in the middle of the cheeses we tried.
In the words of my colleague, "If you watered down cheese, this is what it would taste like."
What Is The Best Vegan Cheese?
Kite Hill Almond Cheese, $10.99
This dairy-free cheese brings people together. While I was choosing the different flavors and textures to sample, this one caught the attention of a fellow shopper who raved about both this particular product and Kite Hill.
With a ringing endorsement from a stranger, a high price tag, and pretty packaging, I had high expectations for this vegan Brie. For most of my testing group, it didn't disappoint. It had a creamy, smooth texture, and a mild taste similar to the dairy version.
You could easily serve this almond cheese at a party, and no one would ever know that it's dairy-free.
Heidi Ho Smoky Chia, $6.99
Made from tree nuts and chia seeds, this dip claims to be perfect on its own or as an ingredient in Alfredo sauce and vegan mac and cheese.
To get a true taste of this dip's flavor, we tried it with pretzels. Some members of the group found it to be a bit too garlicky and sour. One person gave it his endorsement, noting its flavor reminded him of hummus.
Treeline Herb Garlic Cheese, $7.99
Another vegan dip, this one has a whipped, slightly stiff texture that is similar to dairy-based spreads.
At first bite, this spread had a tangy, almost citrusy zing, which gave way to a slightly bitter aftertaste. Members of our group also noted this is another spread that could easily pass as a dairy version.
Our Cheesy Conclusions
Out of the six dairy-free cheese brands we tried, two were exceptional and one we simply couldn't recommend to anyone. The rest of the varieties were perfectly fine — neither spectacular nor vile.
There's a reason Daiya sets the standard for vegan cheese brands. We found it was the best of the varieties we tried. It has a firm texture that makes it perfect for cutting or shredding, and its jalapeño flavor gives this vegan havarti a nice kick.
Additionally, that stranger and fellow shopper who raved about Kite Hill in the grocery store was right. The almond-based Brie was creamy, smooth, and had the perfect delicate flavor.
The only one we really wouldn't recommend is the Miyoko vegan mozzarella, thanks to its overwhelmingly chemical flavor.
What Is Vegan Cheese?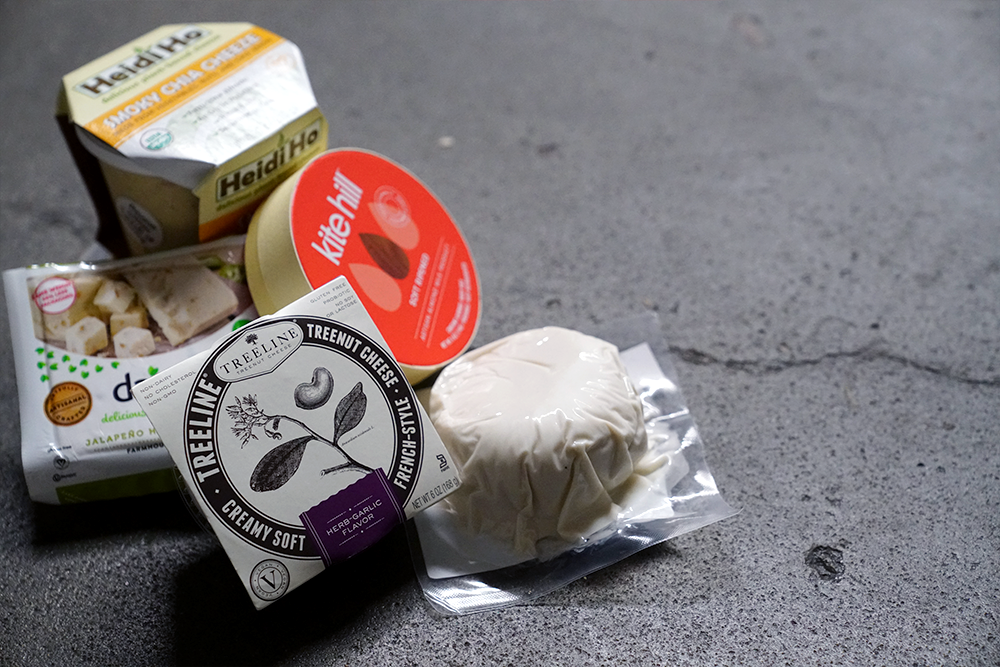 No longer just tofu, dairy-free cheeses are made from a wide range of proteins like tapioca, nuts, and even chia seeds mixed with nutritional yeast for a more robust flavor. This base is often mixed with oils, emulsifiers, and thickeners to produce a firmer cheese.
Many brands even emulate the texture of dairy-based cheeses, right down to the melt, so you can still have those delicious strands of cheese dangling from your slice of pizza.
Who Sells Vegan Cheese?
Finding dairy-free cheese in your local market has never been easier. Larger grocery stores like Vons, Wegmans, Ralphs, and even Walmart typically carry a few varieties like Daiya and Tofutti. Trader Joe's also carries its own brand of mozzarella and cream cheese substitutes.
But if you're looking for a wide range of options, it's best to check out the stores that cater to healthy and sustainable options, such as Whole Foods, Sprouts, and your local health foods market.
What are your favorite vegan cheeses? Let us know in the comments, and check out these 11 meatless Monday facts that will make you want to reach for the veggies.