Mondays are tough. It's the start of a whole new work week jam-packed with meetings, appointments, errands, traffic — and it isn't even noon yet. By lunchtime, you're ready for some hearty comfort food to get you through the rest of the workday.
But instead of ordering your usual burger from the diner next door, swap it for a salad or plant-based soup. Not only will you bypass that post-lunch food coma, but that simple choice can help save enough energy to charge an iPhone for 4.5 hours.
What does charging an iPhone have to do with your lunch order? Everything. When you eat meat, your diet directly affects the health of the planet as much as it does your cholesterol. Animal agriculture has such a severe impact on the environment that the Union of Concerned Scientists lists meat-eating as the second biggest environmental hazard — with fossil-fuel vehicles as the number one hazard.
Don't believe us? Read these 11 need-to-know facts about the impact of animal agriculture on the environment, and join us as we commit to Meatless Monday.
1. According to the United Nations' Food and Agriculture Organization (FAO), Americans consume 60% more meat than Europeans, and the rest of the world isn't too far behind.

2. Global meat production tripled from 1971 through 2010 to an estimated 600 billion pounds produced annually. If numbers continue at that rate, sources estimate that meat production will double to about 1.2 trillion pounds of meat per year by 2050.

3. Meat production is responsible for an estimated 24% of global greenhouse gases every year. Greenhouse gases include methane production from animals, carbon dioxide from deforestation, and nitrous oxide from fertilizer. Methane is 25 times more potent than carbon dioxide, and nitrous oxide is 300 times more potent than carbon dioxide.
4. Based on current data and consumption patterns, if everyone on the planet went without meat for one day per week, we could reduce emissions by an estimated 1.0 gigaton per year. That's equal to taking 273 million cars off the road.

5. In order to produce 1 kilogram of rice, 3,500 liters of water are used. To produce 1kg of beef, about 15,000 liters are used.

6. Livestock in confined factory farms generate 500 million tons of manure per year. That overwhelming amount of manure creates toxic wastewater and pollutes groundwater, streams, rivers, and — eventually — the ocean.

7. In developing countries, up to 95% of public wastewater and 70% of industrial waste is flushed into surface water without treatment. With limited freshwater resources, many cities use this untreated water for agriculture.

8. Agriculture uses about 70% of all global freshwater resources. Freshwater is a finite resource, and rising global temperatures are already causing a decrease in precipitation. FAO recently released a report which stated that if farmers don't take action to reduce their emissions and conserve water, up to 42 million people could face dangerous levels of hunger.

9. Not all meats are the same: lamb, beef, and cheese create the highest emissions, partly because they come from ruminant animals that constantly generate methane. (Reminder that methane is 25 times more potent than carbon dioxide!)

10. Livestock takes up 30% of Earth's land surface. As demand for meat increases, so does the amount of deforestation and land degradation.

11. A diet consisting largely of beef and processed meat increases your risk of heart problems, heart disease, cancer, and obesity. A study using UK meat consumption patterns estimated that a 50% reduction in meat and dairy consumption, when replaced with vegetables and cereals, could result in a 19% reduction in greenhouse gas emissions and up to 43,600 fewer deaths per year.
How does your favorite food stack up?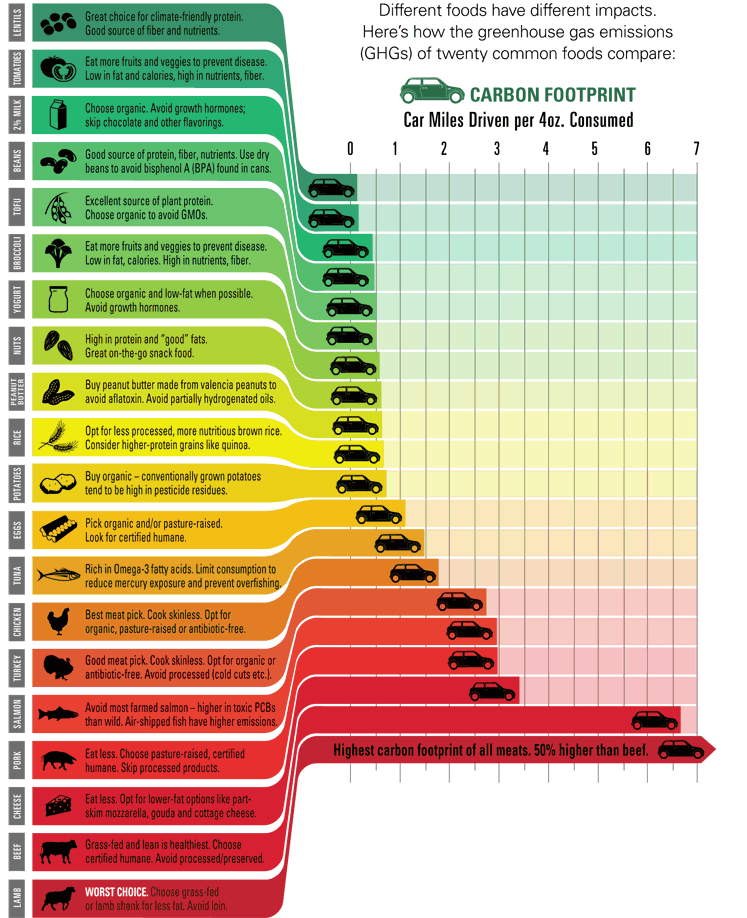 Interested in committing to Meatless Monday? Check out the Green Future Pinterest board for recipes that will keep your taste buds happy while you reduce your carbon footprint!