If you follow a handful of celebrities on Instagram, you probably already recognize detox tea.
Detox teas have been riding the wave of social media product placement, complete with promises of blasting belly fat and purifying your innards with magical herbs hand-plucked from remote mountain perches. Detoxing — or in this case, teatoxing — markets itself as one-stop shop for a variety of health benefits. These usually include weight loss, boosting immunity, and promoting a healthy digestive system. But is it legit?
Does Detox Tea Work?
Fit Tea is one of the industry leaders when it comes to shilling expensive tea on the Internet. According to the website, the ingredients include:
Organic Green Tea, Oolong Wu Yi, Organic Rooibos, Ginger, Pomegranate, Guarana, Birch, Stevia, Corn and Honey Powder.
If you know what oolong wu yi is, more power to you. I googled it, and it happens to pretty much be standard black oolong tea, which isn't quite as fancy — nor as expensive — as it sounds. The ingredients that are good for you, such as green tea, ginger, birch, rooibos, and oolong wu yi, can be purchased for a fraction of the price of a $25 bag of Fit Tea you'll see Kylie Jenner clutching.
Meanwhile, stevia is a zero-calorie sweetener, but its health benefits are questionable.
According to nutritionist Kate Skinner, stevia is slightly better for you than artificial sweeteners, but that doesn't mean it's good for you.
"Stevia may cause hypoglycaemia by tricking the body into thinking it's receiving sugar when it's not (just as artificial sweeteners do), perpetuate blood sugar dysregulation, and increase hunger."
Other teas like Bootea and Baetea contain senna, which is a laxative. The claim that chugging laxatives will make you shed the pounds has been around since high school, but like other high school mythologies — it's mostly hearsay.
Laxatives may cause you to spend an hour on the toilet, but so will Haribo sugarless gummy bears. By the time laxatives take their intended effects, the nutrients from the food you've eaten have already been absorbed by your body. The only thing you're losing is water, electrolytes, and minerals — all things you actually need to lose weight.
Claiming that detox teas aid weight loss is an iffy assumption. If you drink detox tea along with a limited portion of vegetables and whole foods, you'll lose weight. Then again, if you eat the latter without tea, you'll still also lose weight.
Fit Tea has mostly positive reviews from their customers. However, Broadly reported that a rival detox tea has caused birth control to become ineffective and can cause women to skip their menstrual cycles.
But The Celebs Say It Works
For some reason, we're more inclined to believe a celebrity selfie than our doctors. But the truth is, Instagram stars make their cash off sponsored posts.
The most-followed star on Instagram, Selena Gomez, stands to make over $550,000 for one Instagram endorsement. The above photo became the most liked Instagram photo of all time — ironic, consider it's an ad. Although the power of celebrity endorsements can't be underestimated, it's also notable that Gomez rarely hawks any products on her Instagram page. Undoubtedly this makes her a more lucrative spokesperson for major companies like Coca-Cola or Pantene. Gomez has yet to hawk detox tea.
Other stars, such as Lindsay Lohan, the Kardashians, and a bevy of reality TV starlets, frequently promote products through Instagram endorsements.
Blac Chyna charges $2,000 for a one-week product placement on her Instagram page.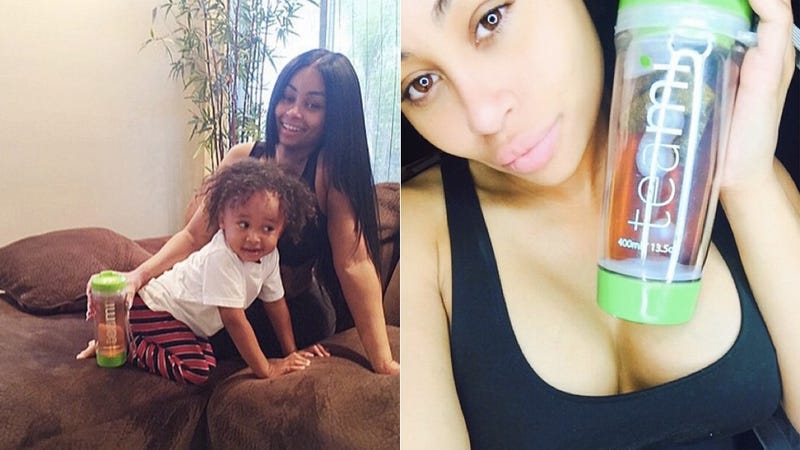 So before you think that a teatox will actually work, remember that the latest celebrity to boast about losing weight with a detox tea probably isn't even drinking it.
Best Detox Tea
You can flush out the toxins in your body without flushing out your bank account. Here are some easy, natural, and affordable alternatives to celebrity-endorsed tea.
Hit your local supermarket or health food shop and scan the tea aisle for the following ingredients that naturally detox your body:
Dandelion
Organic milk thistle
Matcha green tea
Oolong black tea
Black walnut
Wormwood
Alfalfa leaf
Peppermint
Stinging nettle
If you're feeling especially crafty, fill your garden with Camellia Sinensis — the plant from which all major teas originate from.