Now that we have an idea of who might be heading the Environmental Protection Agency, there's no doubt that, despite President Donald Trump's pledge to keep an open mind about climate change, he's still going to stick to his guns.
His nominee, Attorney General of Oklahoma Scott Pruitt, has a history of allying himself with fossil fuel companies, joined a coalition of states who sued to block the Clean Power Plan, and spent more of his time as Attorney General fighting the powers of the office he's now tapped to lead.
With all that in mind, it's more important now than ever to protect the environment, especially in states that struggle with conservation. They need the most help from environmental groups to one day become the greenest states in America.
To get an idea of where to start, we've used WalletHub's yearly rankings of green states to examine key issues like air quality and energy consumption, and we found key environmental organizations in those states that are creating change.
Lowest Air Quality: California
It may be called the Golden State, but California is far from the greenest. The state has worked for years to combat poor air quality. Some of the most polluted cities are found in central and southern California, where the bowl-shaped landscape surrounded by mountains traps airborne particles and prevents them from circulating out. But it's not just the landscape that's to blame — farming equipment, heavy highway traffic, the use of fireplaces, and diesel trucks also contribute to the worsening air quality in California.
The Coalition for Clean Air has worked since 1971 to help restore clean and healthy air to California. Their goals are wide-reaching, and some of them include helping California's freight industry rely more on zero emission technologies to protect low-income and disadvantaged communities from the brunt of air pollution.
Whether or not you live in California, you can visit the EPA's AirNow map to look into your area's air quality. Then, hop over to the American Lung Association's yearly State of the Air Report to see how your county ranks.
Lowest Water Quality: New York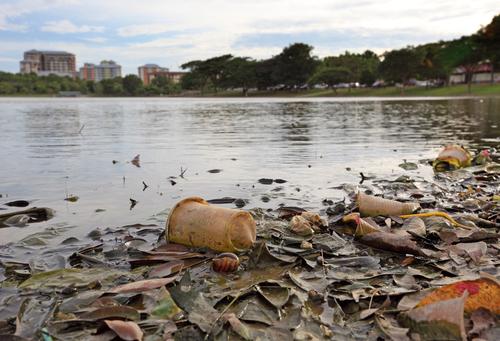 Despite strong efforts to improve water quality, New York was at the bottom of the rung in terms of clean water. The state has already identified the top 10 pollutants that are impeding water quality, which range from legacy pollutants in sediments and fish to inadequate onsite treatment, urban stormwater runoff, and more.
The sheer number of environmental groups in New York proves that this state is filled with people dedicated to conservation, but one that everyone can participate in is the statewide New York League of Conservation Voters (NYLCV). They focus on a number of areas, ranging from climate change to transportation. But in terms of clean water, the NYLCV is committed to issues like better wastewater management, enforcing the Sewage Pollution Right to Know Law, improving the aging water infrastructure, and more.
Clean water preservation affects all Americans. To understand what's in your water, reference the Consumer Confidence Report (CCR) issued annually by your water supplier. Normally released around July 1, the report tells you where your water comes from and what can be found in it.
Lowest Percentage Of Recycled Municipal Solid Waste: Louisiana
Municipal Solid Waste, or MSW for short, refers to all the trash and garbage we throw away on a daily basis. If thrown into a landfill or improperly recycled, this trash can pollute the surrounding air by producing methane and contaminating surrounding groundwater and soil. In Louisiana, nonprofit organization Keep Louisiana Beautiful estimates that taxpayers spend about $40 million a year on services like litter removal and enforcement.
To help protect the environment and clean up the trash, Keep Louisiana Beautiful aims to educate citizens about recycling, enforce litter laws, and provide volunteers with opportunities to clean and beautify Louisiana's streets. They even provide grants to groups like universities and other nonprofits in order to spur community action.
If you want to go a step further, check out No Waste Louisiana to learn more about their outreach efforts. Those of us in other states can also study up on Green Future's lifestyle tips to help reduce the trash in our lives.
Lowest Energy Consumption From Renewable Resources: Delaware
According to the July 2016 report from the US Energy Information Administration (EIA), natural gas-fired power plants accounted for about 85% of Delaware's electricity generation. In contrast, renewable sources of energy, such as biomass and solar, only accounted for 2%.
To combat this, the nonprofit Delaware Sustainable Energy Utility initiated Energize Delaware, a program dedicated to helping Delawareans bring renewable sources of energy into their homes and businesses. Individuals can schedule a home energy audit to see what improvements they can make to their building. Then, if they qualify, they can even receive rebates to help with the cost. This program is also geared toward helping other groups, like commercial, industrial, and nonresidential (like schools and hospitals) organizations, to figure out how they can also use less energy.
While programs like this might not be available in other states, you can still find out where your state's sources of energy come from through the EIA's website. And, of course, if you want inspiration on how to make your home a little more eco-friendly, check out our Home and Garden section.
Overall Least Green State: Wyoming
The overall least green state is Wyoming, which has struggled for years to reconcile its energy industry with the ramifications to the environment. Despite the state's small population, the EIA reported that the industrial sector accounts for more than half of all energy consumed in the state and that the transportation sector accounts for more than one-fifth. Wyoming came in second for highest gasoline consumption and tied with three other states — Alaska, Louisiana, and North Dakota — for highest energy consumption.
There are a number of difficulties facing Wyoming environmentalists. When the Wyoming chapter of the League of Conservation Voters closed in 2012, the state lost a coordinating force that linked environmental organizations, which would have created a unified front to prioritize issues and lobby together against harmful bills.
Still, conservation efforts are undeterred. Among them are the Wyoming Outdoor Council, which worked to help pass the Wyoming Range Legacy Act, and the Sierra Club's Wyoming Chapter. Both focus on a wide range of environmental issues, such as protecting wildlife and public lands, and find ways to transition Wyoming from a fossil-fuels dependent economy to one that is based on clean energy.
Bonus: Superfunds And Community Action Groups
So far, we've identified environmental issues and how to help the states that struggle the most in each area, but there is one thing that affects all states: Superfund sites. These areas are identified by the federal government as so contaminated and hazardous that they pose a risk to humans and the surrounding environment. After selection, they are placed on the National Priorities List, then taken through the cleanup steps as outlined by the EPA.
The cleanup process also relies on Community Action Groups (CAG), which are ideally comprised of individuals that represent the surrounding community of a Superfund site as closely as possible in terms of race, ethnic, and economic interests. The CAG provides a public forum for community members to discuss their needs and concerns, allowing the EPA to consider the community's unique concerns in regards to the site's specific cleanup process.
You can play a role in turning your home state into one of the greenest states in the nation. To see the Superfund sites near you, check out the EPA maps here, and if you'd like to join or create a CAG, you can look more into it here.
About the author: June Sham is a graduate of the University of California, Riverside. After four years in SoCal, she returned to San Francisco, where she's surrounded by redwood forests, foggy beaches, and a whole city thoroughly obsessed with clean living.