In late August, Tim Mentz surveyed a plot of land to the north of the Standing Rock Sioux Tribe (SRST). Mentz, a former Tribal and State Historic Preservation Officer, now specializes in cultural heritage sites. He found 82 sites of historical marking, of which 27 were graves.
On Friday, September 2, the SRST filed an emergency injunction in Washington, DC to put a momentary stop on the incoming procession of construction workers who threatened to destroy the sacred lands. The Dakota Pipeline Access (DAPL) were informed about the injunction. The next day, they brought bulldozers, dogs, and paramilitary contractors to the plot. The DAPL willfully destroyed the sacred sites and set vicious and reportedly untrained dogs on protesters — which included children and pregnant women.
This dog has the blood of one of the peaceful protestors in its' mouth. #NoDAPL #IStandWithStandingRock pic.twitter.com/6tkMehvXWA

— Lakota Child (@PMagouirk) September 4, 2016
Over the next few days, this would become one of the largest Native American protests of all time. Despite its magnitude, the controversy only hit major media coverage once the protests turned violent. Why?
What Is The Dakota Access Pipeline?
#NoDAPL March through seattle today. #LaborDay #DakotaAccessPipeline #DakotaPipeline #NativeYouth pic.twitter.com/nxUyoczKde

— Andy Ribaudo (@RibaudoA) September 6, 2016
This $3.7 billion dollar project would carry 470,000 barrels of crude oil from North Dakota to Illinois every day. Energy Transfer Partners, the company behind DAPL, insists that it will aid America in becoming independent from unstable foreign regions — like the Middle East — and boost local economies.
The Dakota Access Pipeline would use fracking to extract the oil. However, fracking destroys the local environment, pollutes water supplies, kills wildlife, and can even cause a huge increase in earthquakes. In fact, due to fracking, Oklahoma now has more earthquakes than California. At the same time that the DAPL were bulldozing through sacred burial sites on Saturday, a 5.6 earthquake sent tremors through Oklahoma.
How Did This Happen?
The Army Corps of Engineers fast-tracked approval for fracking in native lands, bypassing even the most rudimentary of environmental impact surveys — including any reviews required by the EPA or Clean Water Act — by operating under the umbrella of Nationwide Permit 12.
As far back as March, the EPA and two other federal agencies asked the Army Corps of Engineers to reconsider their hasty decision, warning that a pipeline leak would contaminate the drinking supply for most of western South Dakota and five tribal nations, who depend on the Missouri River for water. The pipeline crosses the Missouri 10 miles away from where the SRST is headquartered.
Philip Strobel, an official for the EPA, said, "There would be very little time to determine if a spill or leak affecting surface waters is occurring, to notify water treatment plants, and to have treatment plant staff on site to shut down the water intakes."
Vicki Granado, a spokesperson for Energy Transfers, said that further surveys were abandoned because "the corps' jurisdiction involves just 3.5 percent of the entire pipeline and a more thorough environmental impact statement is not required and would be a misuse of taxpayer money."
Should the Dakota Access pipeline leak, water, farms, and crops would be contaminated. And even more pressingly, five tribal nations will be displaced with nowhere to call home.
Tribal Chairman David Archambault II says that DAPL intentionally destroyed sacred sites to force construction along:
"The corridor work was many miles away from the historic site that was identified. The next day after we filed, which was Saturday, September 3, the construction workers and equipment leap-frogged ahead and bulldozed the site. When I heard this news, I felt my heart cave. This was so very important to stopping everything."
Archambault says, "These grounds are the resting places of our ancestors. The ancient cairns and stone prayer rings there cannot be replaced. In one day, our sacred land has been turned into hollow ground."
"We're days away from getting a resolution on the legal issues, and they came in on a holiday weekend and destroyed the site," added an attorney for the tribe.
What Happens Next?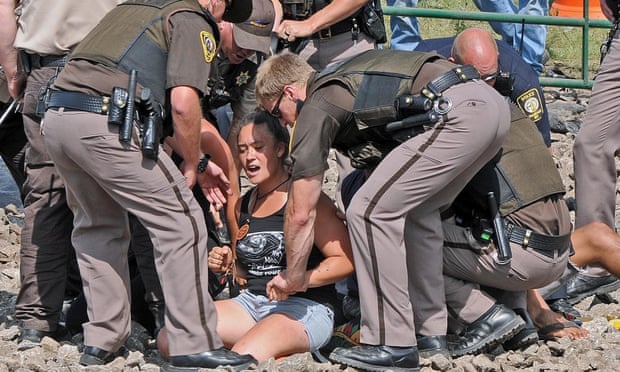 Although the protests in North Dakota started out with a handful of protesters, word has slowly spread on social media. Celebrities such as Shailene Woodley and Susan Sarandon flew to Washington, DC to protest outside of federal court, and Leonardo DiCaprio and Jason Momoa have been outspoken against the proposed pipeline on Twitter.
Inspired by the Standing Rock Sioux's efforts to halt the Dakota Access Pipeline. https://t.co/eP3GrnNZvl

— Leonardo DiCaprio (@LeoDiCaprio) August 23, 2016
The SRST has filed an emergency motion in court to block further destruction of their land, and the presiding judge is expected to make a ruling before September 9.
According to the emergency injunction filed by the SRST:
"Site Protectors of all ages, outraged at Dakota Access's clear intent to engage in construction while knowingly destroying sacred sites identified earlier in the week, attempted to halt construction and preserve evidence. In a calculated response, Dakota Access hired a paramilitary security force to attack the site protectors, including women, children, and the elderly with vicious and dangerous breed dogs, such as Pit Bulls and German Shepherds, not trained for security service. Dakota Access paramilitary squad used canisters of tear gas, and pepper spray against the site protectors. A number of the site protectors were injured by the pepper spray and gas, and bitten by the vicious attack dogs. For example, news reports discuss that a pregnant woman was bitten on the shoulder and a young girl was bitten and they were treated for injuries."
Why Aren't We Talking About The Dakota Pipeline, And What Can I Do?
It's no secret that our pursuit of oil has led to some seriously shady dealings, and the dirty fingerprints of Big Oil are everywhere. Fox News and the Wall Street Journal are well-known for having fossil fuel insiders on their payroll, and MSNBC has advertisements promoting fracking. Most companies are reticent to disavow something that also pays them handsomely.
In a news cycle dominated by reality TV stars and superficial narratives, the North Dakota pipeline only saw major news coverage once the protests turned violent — despite the 3,000 protesters who have been out in force since the bulldozers arrived.
But thanks to social media, the word is spreading. You can sign the petition right here, or share information about developments on social media using the hashtags #NoDAPL #RezpectOurWater. You can also share this disturbing video taken from the scene of the protests, courtesy of Democracy Now.
We'll update this story as it develops.
Update - 9/9/2016
The presiding federal judge ruled against the Standing Rock Sioux Tribe in a hearing today, stating that "the United States' relationship with the Indian tribes has been contentious and tragic," but that the tribe "has not shown it will suffer injury that would be prevented by any injunction the Court could issue."
Despite this, three federal agencies — including the Justice Department, the Interior Department, and the Department of the Army — blocked any further construction around Lake Oahe, subject to a pending review. The Standing Rock Sioux Tribe issued this statement:
Header Image Courtesy Of The Star Tribune