It's been nearly a month since activists clashed with the Dakota Access Pipeline (DAPL) over the construction of a fracking pipeline through sacred lines. The pipeline also has the potential to wipe out the water supply for the nearby Standing Rock Sioux Tribe (SRST). After three federal agencies stepped in to block construction around Lake Oahe, news coverage dwindled. But the protests are still very much going on. Here are the latest updates.
North Dakota Violates First Amendment In Attempt To Silence Media
North Dakota police issued an arrest warrant for Democracy Now journalist Amy Goodman, who was on scene to deliver breaking news coverage, which gathered international momentum as scenes of blood-soaked dogs attacking protestors went viral. North Dakota police alleged that Goodman was on private property conducting interviews with protestors. Democracy Now is fighting the charges along with the help of the Center For Constitutional Rights (CCR). The CCR's legal director, Baher Azmy, made the following statement:
"This is clearly a violation of the first amendment … an attempt to repress this important political movement by silencing media coverage."
Police Send Armored Trucks, Automatic Weapons To Protests
While protesters exercise their first amendment rights, the police presence has been overbearing. Native News Online reports:
"Protesters sang songs, listened to elders' stories, and took pictures of the pipeline.

Police responded to the protest with an armored vehicle, automatic weapons, riot gear, a bus full of officers, surveillance aircraft including two helicopters and an airplane."
Feds Refuse To Remove Protestors
As the SRST prepares to continue the protests over the winter, federal authorities refuse to remove them. Kevin Cramer, a Republican U.S Representative, says the camp is illegal, but federal authorities says they will not evict the Seven Council Fires camp, which continues to protest the pipeline on accounts of free speech.
Trump Revealed To Have Investments In DAPL
Obama stepped in and banned any pipeline construction on federal land. Should Trump rise to power after election day, expect an entirely different story — especially considering that Trump has his own fingers wedged in DAPL. According to Greenpeace, Trump has between $500,000 and $1 million dollars invested in Energy Transfer Partners, the firm behind the construction of the DAPL.
Energy Transfer Partners (the first name on this list) is the company behind the #DakotaAccessPipeline.#NoDAPL #Debates2016 pic.twitter.com/xX8TqtRXsc

— Greenpeace USA (@greenpeaceusa) September 27, 2016
9/10/16 U.S. Court Of Appeals Denies Injunction
A U.S. Court of Appeals denies the injunction filed against Energy Transfer Partners, that would effectively block any further destruction of sacred lands while the appeals process continues. It's a major blow to #NoDAPL movement but Standing Rock Chairman, David Archambault II, vows to continue the protests in a statement released by the tribe on Sunday:
10/10/16 Update: Actress Shailene Woodley Is Arrested Amidst A Growing Police Presence
Shailene Woodley was arrested for trespassing, while live-streaming the growing influx of heavily armed police officers. In the live Facebook stream, Woodley says:
"They grabbed me by my jacket and said that I wasn't allowed to continue ... and they have giant guns and batons and zip ties and they are not letting me go."
Woodley was one of 27 arrests made today.
Local law enforcement recently complained to local new outlets that the protests leave them with little personal time, and out-of-state officers are swarming into the area to watch over the largely peaceful protests. However, there are frissons of tension as police officers and private security firms are taking an increasingly heavy handed approach to the protests. Military-style raids have been used to break up peaceful prayer circles, and violence against the protestors has been routinely documented on social media:
While making arrests, On Point Security (employed by Dakota Access) stomped on a prone water protector who was face down in the mud. #NoDAPL pic.twitter.com/QgwRyRXXTw

— Unicorn Riot (@UR_Ninja) October 7, 2016
The Sacred Stone Camp is gearing up for a protracted winter battle with the Dakota Pipeline. You can send them supplies via an Amazon wishlist.
Update 10/24/2016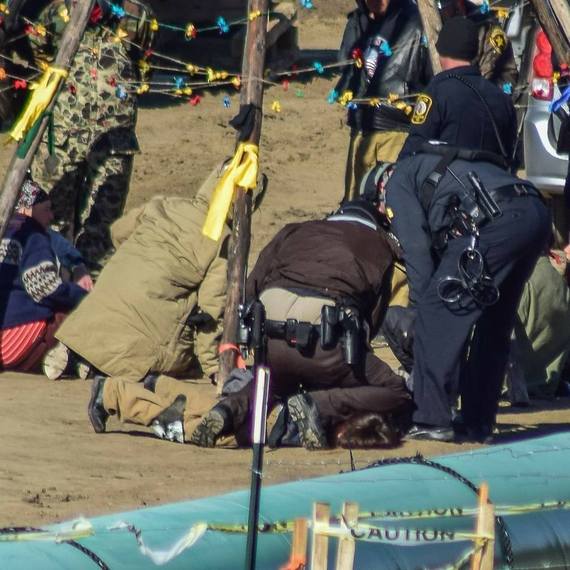 Sheriff Kyle Kirchmeier must be held accountable for the flagrant assault on human rights that is currently taking place in North Dakota.
Standing Rock Sioux Tribal Chairman David Archambault II was arrested and charged with "disorderly conduct." He was strip-searched and forced to take out his sacred hair braids in case they "contained a weapon."

LaDonna Brave Bull Allard founded the Sacred Stone Camp on her own land. Her daughter was arrested, strip-searched in front of male officers, and left naked in a cell for hours before she was given clothes to wear.

Dr. Sara Jumping Eagle is a pediatrician on the Standing Rock Sioux Reservation. She was arrested and forced to "squat and cough" while naked in front of officers.

120 protesters have been arrested and subjected to strip-searches.

Rubber bullets and mace have been used on the peaceful protestors, which include women and children.

Police shot down a drone that was recording police activity.

Deia Schlosberg, an award-winning filmmaker and journalist, faces 45 years in prison after being charged with three counts of felony conspiracy. She insists she was there as a journalist.
North Dakota police forces claim that the water protectors are trespassing, but a statement from the tribes involved in the protest explained that they have taken back unceded territory affirmed in the 1851 Fort Laramie Treaty between the government and the Plains tribes. They have said that the sale of unceded lands is "null and void."
Building this pipeline has overshadowed human rights in the outrageous actions taken by an increasingly brutalistic police force. A petition has launched to remove Kirchmeier from office due to sexually abusive and potentially unlawful attacks against protestors, as well as having journalists and filmmakers arrested for exercising their First Amendment rights.
Update 10/31/2016
Water protectors were joined on-site by a herd of buffalo just before the weekend. Buffalo, also known as bison, are sacred to Native Americans. Buffalo are also an endangered species.

On Friday, Amnesty International dispatched a team of observers to Standing Rock to watch over the water protectors in light of ongoing allegations of police brutality.

On Thursday, over 140 people were arrested. They were also attacked with pepper spray, sound cannons, rubber bullets, tasers, and bean bag rounds.
This is a taser barb removed by medic from a #NoDAPL protestor's cheek. #DAPL pic.twitter.com/6S1Qlzo4Jy

— wes enzinna (@wesenzinna) October 28, 2016
An alleged Dakota Access employee armed himself with an AK-47 rifle and attempted to infiltrate the main camp. He pointed the rifle at protestors before being arrested by the Bureau of Indian Affairs police. Inside his vehicle, police found a DAPL security ID card and insurance papers indicating his vehicle belonged to DAPL.

Protectors believed they were being monitored on social media by law enforcement. In response, thousands of people from all over the world have checked into Standing Rock to potentially disrupt any type of surveillance activity.

Police, who have already occupied every available jail cell in the area, are reportedly now locking up arrested protesters in dog kennels.

Police are shooting horses with rubber bullets and bean bag rounds. One horse has already been euthanized after sustaining damages from the police.
Update 12/4/16
The Army Corp of Engineers announced that it would deny an easement to Energy Transfer Partners. Consequently, the Dallas-based company will not be able to complete the final stretch of the pipeline along the previously planned route.
After news of the denial made its way to the protestors, they reportedly cheered for hours afterward.
"Our prayers have been answered," National Congress of American Indians President Brian Cladoosby said in a statement. "This isn't over, but it is enormously good news. All tribal peoples have prayed from the beginning for a peaceful solution, and this puts us back on track."
Tribal leaders emphasized that though this represented a victory, their battle wasn't over. They also expressed some concern over possible decisions made by the incoming Trump administration.
Update 12/12/16
Oil has leaked from Belle Fourche Pipeline, which is roughly 150 miles from the Dakota Access pipeline protest camps. North Dakota officials estimate that over 176,000 gallons of crude oil spilled into the Ash Coulee Creek.
Pipeline spills 176,000 gallons of crude into creek about 150 miles from Dakota Access protest camp. https://t.co/hUP8SWU88i #NoDAPL

— Standing Rock Sioux (@StandingRockST) December 12, 2016
A representative of True Cos., which operates the pipeline, claims that the leak was contained within hours of its discovery. Dozens of workers are on the scene, and so far an estimated 37,000 gallons of oil have been recovered.
We will continue to update this story as it develops.
Header Image Courtesy Of Petition To Stop Dakota Access Pipeline