If you want to learn more about marine biomes, either for school or for fun — you've come to the right place! But first thing's first. What is a marine biome?
Marine Biome Definition
Marine biomes are unique underwater habitats, which foster a variety of different plants, animals, and conditions. The definition of a marine biome is simply an oceanic habitat. A whopping 75% of Earth is covered by water, so you can correctly assume that the location of the marine biome is in the ocean!
But like the difference between a taiga biome and a savannah biome — the ocean is vastly different depending on where you go. Marine biome characteristics vary from coast to coast, but in the following guide, we'll explore the plants and animals of the various marine biomes, and learn about the different types of aquatic habitats.
Marine Biome Map
Here's a handy map to understand where in the world the majority of marine biomes are located. As you can see, the largest marine biome is the oceanic biome, which covers three quarters of Earth's surface.
Marine Biome Location
The marine biome is the largest ecosystem on earth! But despite the vast expanse of marine life, there are three main types of marine biomes.
Ocean Biome
Because the ocean is so large, we can examine oceanic habitats by looking at the marine biome zones, of which there are four.
Intertidal Zone
The intertidal zone is also called the littoral zone. It's the area where the ocean meets land and forms a shore. It can be underwater or exposed as the tide comes in or out, and this is where waves form and crash to shore.
Depending on the flow of the tide, the animals and lifeforms living in the intertidal zone can vary greatly. The intertidal zone occurs on shores all over the world, and due to the constant flux of incoming waves, it can be a tough place for organisms to survive.
Intertidal Zone Animals
Sea Anemones
Bivalves (oysters, scallops, mussels, and clams)
Starfish
Crabs
Sea Urchins
Snails
Shrimp
Seals
Birds
Otters
Cuttlefish
Ray-finned fishes
Isopods
Algae
Sponges
Whelks
Pelagic Marine Biome
The pelagic marine biome is the open ocean, which you can see on the marine biome map above. The pelagic marine biome consists of three main layers, which are based on how much light can enter that habitat. These are:
Euphotic Zone (Sunlight)
Dysphotic Zone (Twilight)
Aphotic Zone (Midnight)

Coral Reefs
The coral reef biome is one of the most beautiful places you can find in the world! Coral reefs are found in warm, tropical waters, and they exist in shallow waters (up to 150 feet) as they rely on sunlight to survive. There are three main types of coral reef biomes:
Fringing reefs, which are close to shore and found in Hawaii, the Caribbean, and Kenya
Barrier reefs are further from the shore, like the Great Barrier Reef in Australia
Atolls are rings of reef that form around lagoons, like those in Bora Bora
Here's what they look like:
Fringing Reef
Barrier Reef
Atolls
Estuaries
The estuary biome is where freshwater and saltwater merge, usually where a river meets the ocean.
Marine Biome Animals
There are approximately 2.2 million species of animals in the marine biome. Here are some examples of the creatures you could meet in the deep!
Ocean Biome Animals:
Marine mammals: whales, dolphins, and seals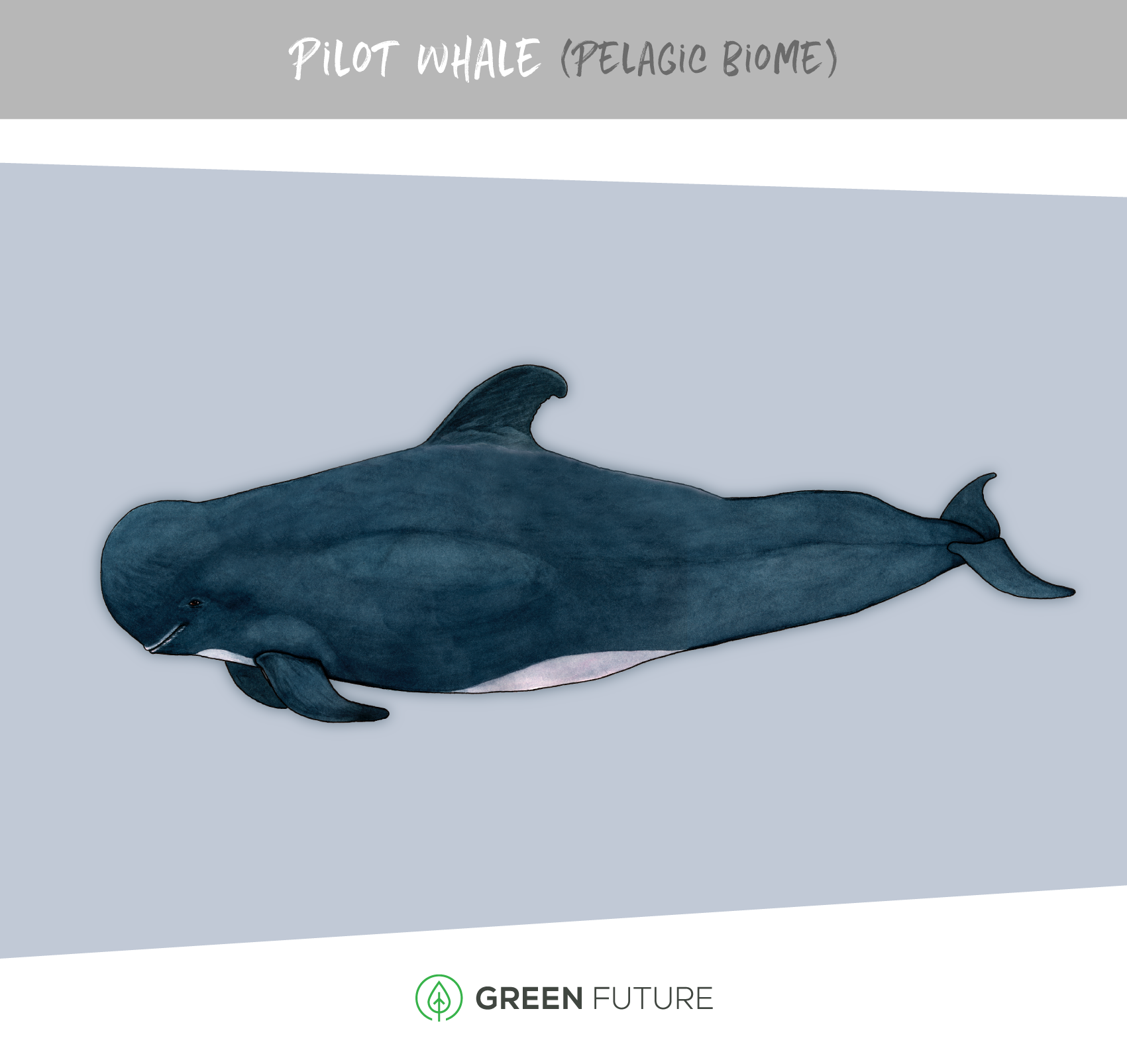 Fish: all species of fish, sharks, eels, seahorses and stingrays
Reptiles: turtles, sea snakes, and saltwater crocodiles
Mollusks - Squid, octopuses, clams, conch, slugs, oysters and snails
Sea anemones
Coral Reefs: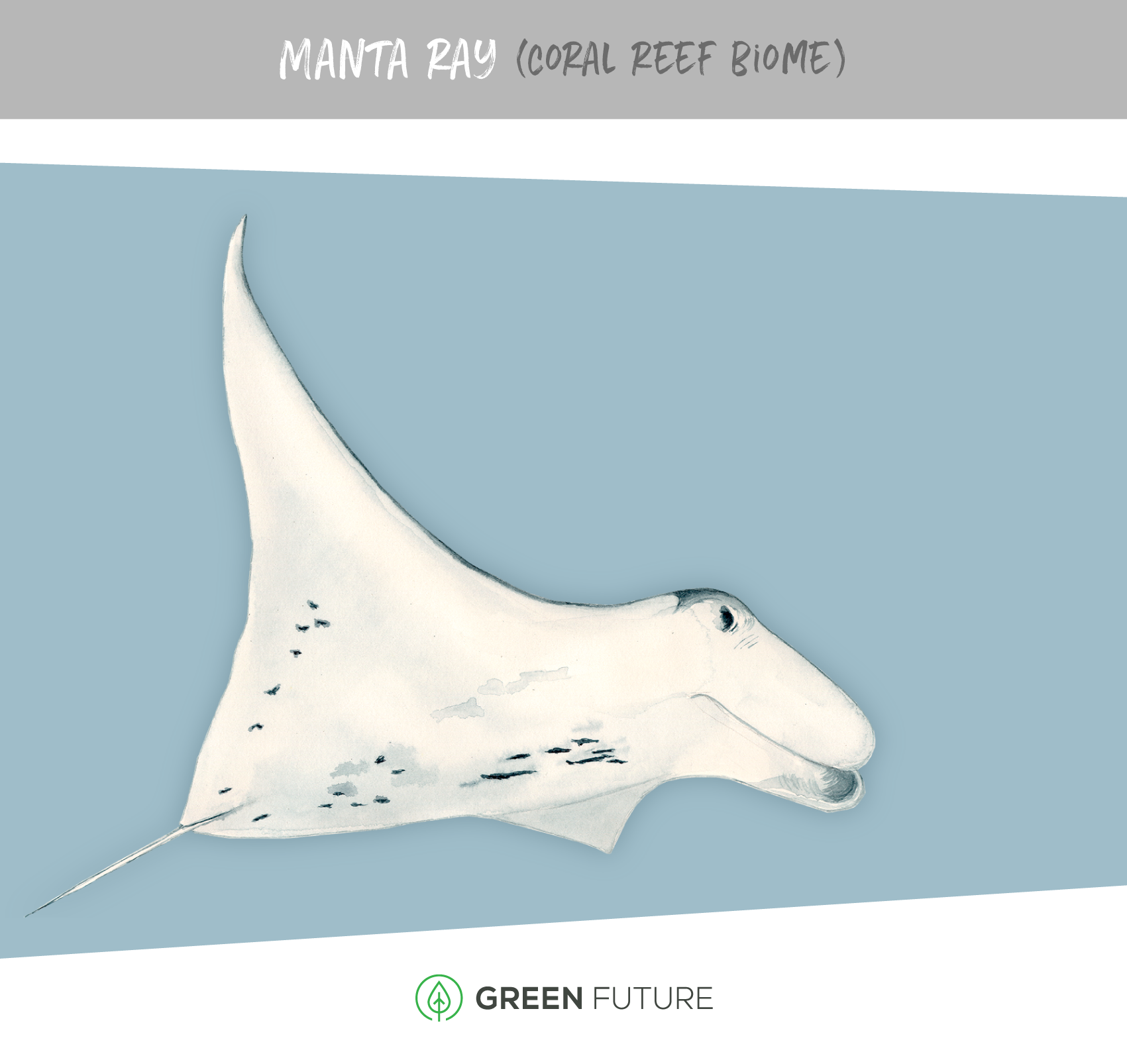 Sponges
Echinoderms
Mollusks
Crustaceans
Polychaetes
Fishes
Manatees
Estuaries
Seabirds
Crabs
Fish
Lobster
Shellfish
Marine worms
Marine Biome Energy Pyramid
The marine biome energy pyramid has four trophic layers:
The first trophic layer is also called "'primary producers"' and includes phytoplankton and algae
The second trophic layer is filled withare herbivores who feed upon the primary producers, like small crustaceans or sea urchins — these are primary consumers
The third trophic level containsare carnivores that eat the herbivores, like certain fish. These are secondary consumers
The third trophic level is tertiary consumers, or; carnivores who eat other carnivores —- like squid
Apex predators, like sharks, are at the top of the energy pyramid, and have no natural predators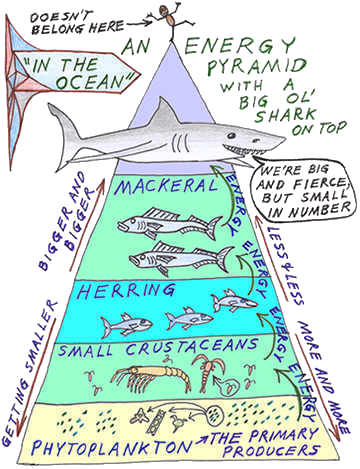 Marine Biome Food Web
What's the difference between an energy pyramid and a food web? An energy pyramid shows biomass transfers across the trophic levels, but a food web is a series of interlocking and interdependent food chains. Here's a marine biome food web!
Marine Biome Abiotic Factors
Marine biome abiotic factors include soil type, nutrient availability, temperature, moisture, wind, water currents, and sunlight!
Marine Biome Biotic Factors
Marine biome biotic factors include bacteria, fungi, algae, plants, and animals.
Marine Biome Plants
Did you know that ocean plants are among the most important plant life on this planet? Here's an interesting fact about the marine biome: algae in the ocean absorb carbon dioxide and produce most of the world's oxygen! Aside from algae, here's some other marine biome plants:
Seaweed
Kelp
Seagrasses
Mangroves
Facts About The Marine Biome
What's your favorite animal in the marine biome? Tell us in the comments!
Artwork courtesy of Olinkha Gustafson-Pearce