Last night I, along with a bunch of other people who like to argue on the internet about subjects we're not experts in, watched Climate Hustle. According to the film's website, Climate Hustle aims to tackle important issues:
Are emissions from our cars, factories, and farms causing catastrophic climate change? Is there a genuine scientific consensus? Or is man-made "global warming" an overheated environmental con job being used to push for increased government regulations and a new "Green" energy agenda?
The master of ceremonies is Climatedepot.com editor Marc Morano.
Though I disagree with a lot that Marc Morano says, I think you'd have to be a thoroughly entrenched demagogue to dislike him as a person. He's funny and self-deprecating. (He likes to say "I'm not a scientist, but I do play one on TV.") Even though he's neck deep in the aggressively negative muck of partisan politics, he always has a smile on his face.
But how does his movie stack up?
Here's the short version of Climate Hustle. Everything you've heard about climate change is wrong. No good science actually says that man-made causes are raising the global temperature to dangerous levels. Things are fine. Hakuna matata.
This obviously contradicts what politicians, the media, and Leonardo DiCaprio have told you in recent years. But, the film claims, they're all lying. Even Leonardo Dicaprio. And since we as a nation have watched Leo grow from indie performer, to Teen Beat heartthrob, to mature acting virtuoso, that is the cruelest cut of all.
I'll never be able to trust those piercing blue eyes ever again.
But why? Why would so many people lie and stoke fear over climate change?
Essentially, Morano says that he's exposed the real reason climatologists spent their youth examining ice cores in the Arctic Circle and pouring over massive tables of data about the chemical composition of the atmosphere instead of partying like Liberal Arts majors. They and their allies want to wield their authority to scare the nations of the world, partner with the United Nations, trick the media, and rule over people with oppressive economic regulations.
It is, basically, the nerdiest plot for world domination ever hatched.
Other scientists have to be jealous of this plan. If geophysicists had known that world control was as easy as lying about science and scaring people, they could've fudged the numbers to imply that the world is going to blow up from the inside. Astrophysicists could've concocted an Earth-destroying asteroid. Marine biologists could've claimed that dolphins were on the verge of rising from the ocean and enslaving humanity and forcing us to work in their undersea caves and massage their dorsal fins on command.
But, no. For some reason, of all the world's scientists, climatologists are the deceitful and power-mad ones.
A lot of people are quick to point out that Morano's website ClimateDepot.com is a project of Committee For A Constructive Tomorrow (CFACT). Though CFACT doesn't disclose its funding sources, many suspect that it's financially propped up by the oil industry.
But I think there's little connection between Big Oil and Marc Morano. The strongest line of evidence that little money is flowing to Morano's pockets is how bizarrely cheap his film looks. There are navel-gazing films about 19-year-olds trying to find their path in life made by college students that display higher production values than Climate Hustle.
The editing is choppy. The graphics are amateurish. The audio is inconsistent. Sometimes Marc appears outside speaking directly to the camera with a microphone in his hand, and sometimes he doesn't have a mic — like they had a boom mic guy, but they could only afford to pay him part time. There are a few points where I could loudly hear him exhaling into his microphone.
And there's always this weird thing where occasionally this skinny dude with a five o'clock shadow pops up in the lower left hand corner and mimes whatever Marc is talking about. In a scene where he talks about coffee, Mr. Five O'Clock Shadow pops up and sips a cup of coffee. In a scene where money is under discussion, Mr. Five O'Clock shadow pops up and counts a fat stack of bills.
It's bizarre.
If oil executives funded this movie, they were ripped off. I'm outraged on their behalf.
This was especially disappointing since this was a one night film screening in select theatres through Fathom Events. Consequently, I paid $16.25 to see this movie. For that price, I would hope for a James Cameron-directed IMAX extravaganza in a theatre with heated seats and the presence of James Cameron himself, who whispers in my ear whenever I get confused by a plot point.
Instead, I got Mr. Five O'Clock Shadow.
But even if the technical merits of the film aren't great, it could at least be salvaged if the content was interesting and informative. This, sadly, is where things get truly ugly.
The Bad Beginning
After talking about how the film is going to deal with issues in climate change, Morano talks about his fears of enviro-tyranny.
"There are even proposals for carbon ration budgets for every man, woman, and child on the planet," Morano says.
This transitions to a scene where a trio of three men with "ENERGY POLICE" on their backs pound on a house's door. "We're here to check out your power consumption," the head eco thug says.
They then break in and loot the poor homeowner's house, leaving with electronics. "OHHH, look at this: a microwave!" says one. If a used micowave is valuable to him, eco thuggery must not pay very well. Another pulls out a plasma TV.
After envisioning a dystopian future in which an Orwellian Green Government loots people's houses at will, Morano spends the next hour decrying the evils of scare mongering.
The entire film is divided into seven parts, all dealing around the themes of three-card monte and illusions.
Part 1) Stacking The Deck
First Morano takes aim at the whole "consensus" idea. "Global warming has many claims. But one of the most persistent is that 97% of all scientists all agree," says Morano.
It's true that, by all appearances, the statement "human activity is warming the climate" has about as much consensus among Earth scientists as "ice cream for dinner is a good idea" has among six-year-olds.
Several independent surveys of climate and Earth scientists all find a consensus.
Plus, many scientific organizations — like the American Geophysical Union, NASA, and American Meteorological Society — all have issued statements saying that man-made climate change is real. One of the only organizations to ever explicitly oppose the consensus on climate change was the American Association of Petroleum Geologists. But in 2007, they revised their position to a noncommittal one.
On top of that, dozens of National Academies of Science (these are the highest scientific organizations in their countries) acknowledge the reality of man-made climate change. None dissent.
So, for the past nine years at least, exactly zero authoritative scientific organizations oppose the idea that the climate is warming because of man-made causes.
So how does Climate Hustle refute the fact that there is a consensus among scientists?
"Science doesn't function by consensus," says one of the talking heads. "In fact, the history of consensus at times is terrible, from Galileo right away through the 20th century when 95% of scientists, for goodness sake, believed in eugenics."
Uh, OK. So it's not that there isn't a consensus. It's that it doesn't matter. Also, Climate Hustle says that the consensus of climatologists is like people who wanted to breed "undesirable" people out of the human race, in a comparison I will go ahead and call "unfair." Later in the same section, they also compare modern scientists to racist phrenologists who believed that Europeans were the smartest and most creative race.
"What you get is just hundreds of scientists who repeat what they've heard," says another talking head.
I see. So now you're saying that there is a consensus, but is doesn't matter because the scientific community treats a scientific statement the same way an office treats a juicy piece of gossip.
Eventually, Morano does take a crack at disputing the actual idea that there's a consensus.
"One survey that claimed that 97% of scientists agreed was not based on thousands of scientists, or even hundreds of scientists, but only on 77. Of those 77, 75 answered the survey to form the mythical 97% consensus. In this instance, 97% of scientists wasn't even 97 scientists."
One of my fellow Climate Hustle watchers was impressed by this fact.
I learned that the "97% of scientists" were really just 75 out 77 leftists wanting more $$ to spend. #climatechange #ClimateHustle

— Cruz'n yet? (@salchicha27) May 3, 2016
But what study is Morano talking about? He didn't cite a source as far as I could tell, but he must be referring to "Examining the Scientific Consensus on Climate Change," published in 2009.
Is it true that this survey "was not based on thousands of scientists?" Well, according to the paper, a total of 10,257 Earth scientists were asked to participate in the survey. Of those, 3,146 filled out the survey entirely. So to say that it is "not based on thousands of scientists" is false.
Where did Morano get the 77 number? The point of the survey was to get an opinion from a "large and broad group of Earth scientists," not just climatologists. Consequently, only 77 of the people in this group happened to be climatologists who filled out the survey in full, and 75 affirmed the consensus view.
But considering there are several, independant studies that show the same thing, it doesn't even matter.
So just to recap, here's how Climate Hustle deals with the multiple independent studies that have repeatedly affirmed that there is an overwhelming consensus within the science community.
Throughout the segment, the talking heads pooh pooh the consensus and call it "pulled out of thin air" and "simply propaganda."
Feeling satisfied that he has dispensed with the "consensus" myth, Morano moves on to weightier matters.
Part 2) Sleight Of Hand
"Is carbon dioxide, an essential trace gas in the atmosphere, a key driver of global temperatures?" Morano asks.
Excellent question. The power of carbon dioxide to increase global temperatures has been known since the 1800s. Nobel laureate and pioneering physical chemist Svante August Arrhenius calculated in 1898 that "if the quantity of carbonic acid [CO2] increases in geometric progression, the augmentation of the temperature will increase nearly in arithmetic progression."
How does he challenge the basic scientific observation that carbon dioxide influences global temperatures?
First, we're presented with biogeographer Philip Stott, from a staged debate about climate change. "Climate is the most complex, coupled, nonlinear, chaotic system known to man. Of course there are human influences in it, nobody denies that," he says, in a film made by a man who denies that. "What outcome will they get by fiddling with one variable at the margins?"
The rest of those interviewed in this segment essentially make that same point: climate is very complex, and CO2 is only one variable that influences it.
"CO2 is one of many, many, many, variables that influence the Earth's temperature," one says.
This is a secret to nobody, particularly climate scientists. In fact, here's a diagram from the most recent Intergovernmental Panel on Climate Change report that shows the many variables and complex dynamics that influence climate change.
But how do you go from "CO2 is only one element of a complex climate" to "Increased CO2 levels don't increase the Earth's temperature?"
"The fact there there was both higher temperatures and an ice age at a time when CO2 was ten times higher than today fundamentally contradicts the certainty that CO2 emissions is the main cause of climate change," says one talking head.
Well, no, because (as Climate Hustle pointed out) CO2 is only one climate factor. This point still doesn't address whether an increase in carbon dioxide will lead to an increase in global temperature. In fact, paleoclimate reconstructions reveal that when CO2 levels change rapidly, so does the climate.
Morano then transitions to An Inconvenient Truth, Al Gore's 2006 movie about climate change. Morano takes particular issue with a scene that shows a connection between CO2 and temperature by comparing two similar line charts.
Morano tries to attack the chart with two arguments.
1) He repeats the point that CO2 levels used to be higher
2) He repeats the point that many factors influence the climate
Both of which are true, but don't actually contradict the fact that increased CO2 levels influence the climate.
He also introduces a new argument — namely, that Gore's graph is misleading because, according to an ice core, increased CO2 levels actually lag behind increased temperature by about 800 years. Therefore, it is implied, increased CO2 levels can't cause increased temperatures.
To understand how bonkers this argument is, imagine if I said, "Beer causes people to sing karaoke. Therefore, karaoke cannot possibly cause people to drink beer." If you have any experience in the karaoke scene, you know full well that drunk people think that signing karaoke is a good idea AND people calm their performance jitters by having a few drinks.
These aren't mutually exclusive ideas.
CO2 levels increase temperatures, and increased temperatures increase CO2 levels. This creates a positive feedback loop. I found a video that explains how this works very well. Watch it if you want to understand why Morano doesn't actually have a point.
Interestingly, this video was in response to when this argument was made in the movie The Great Global Warming Swindle back in 2007. Apparently, those who consider themselves climate skeptics are very eco-friendly with their arguments. They recycle them over and over again, even if they're garbage.
At this point in the film, Morano takes a crack at the history of the climate change message.
Part 3) Ol' Switcheroo
Morano shows that that popular concerns about global catastrophe are nothing new. In fact, he says, the biggest fear in the 1970s wasn't warming at all. It was global cooling. We see a string of news reports warning of a coming ice age.
Among them was Leonard Nimoy in an episode of the television series In Search Of. "During the lifetime of our grandchildren, Arctic cold and perpetual snow could turn most of the habitable portions of our planet into a Polar Desert," Nimoy warns.
That certainly sounds scary. But Climate Hustle fails to mention that In Search Of was not a science program or even a news program. It was actually dedicated to investigating mysterious and paranormal phenomena. The titles of other episodes included "The Mummy's Curse," "Nostradamus," and "Air Disaster Prediction."
To drive home the fact that the show was more about speculation than facts, every episode opened with the words, "This series presents information based in part on theory and conjecture. The producer's purpose is to suggest some possible explanations, but not necessarily the only ones, to the mysteries we will examine." In fact, you see this for yourself, in this thrilling In Search Of episode about Haunted Castles.
So yes, a television show that produced episodes about "Animal ESP" and "UFO Coverups" also warned about a coming ice age. Checkmate, climatologists.
But, as Climate Hustle claims, the message used to be about cooling — when did it change to warming? It allegedly happened in 1988 when Dr. James Hansen gave testimony about climate change to Congress.
This shift is illustrated by Mr. Five O'Clock shadow guy popping up in a winter coat then shedding it to reveal a Hawaiian shirt underneath.
Did the scientific community actually push a pro cooling agenda in the first place?
Well, I suppose we could check on that by dressing up in our finest polyester and looking back at the scientific papers that were published in the 1970s. I would do it myself, but a research paper published in 2008 by the American Meteorological Society beat me to it.
You see, back in the '70s, scientists were exploring all possible ways that human beings might alter the climate. The fact that CO2 could increase the Earth's temperature was well established. But there was a new character in the climate change story: sulfate aerosols. As the economy ramped up, the number of sulfate aerosols in the atmosphere increased. Interestingly, sulfate aerosols reflect solar energy, which leads to a cooling effect.
So climate scientists faced an interesting question: with the increase in CO2 building up the Earth's temperature, and the increase of sulfate aerosols pushing it down, which would win out in this chemical tug-of-war? Would the world's temperature increase, decrease, or stay the same?
Since there's no possible way to actually predict human behavior, climatologists worked on creating projections. That is, they figured out what would happen to the climate if certain levels of CO2 and/or aerosols were reached. According to a survey of projections during this era, seven papers projected cooling, twenty papers were neutral, and forty-four papers projected warming.
So even during the '70s, climatologists overwhelmingly foresaw a warming climate. The idea that climatologists were sounding the alarm about an upcoming popsicle planet is not true.
Well, what about those papers that projected cooling?
Take a look at one of those papers, entitled "Atmospheric Carbon Dioxide and Aerosols: Effects of Large Increases on Global Climate," published in 1971. The last two sentences of the abstract read:
An increase by only a factor of 4 in global aerosol background concentration may be sufficient to reduce the surface temperature by as much as 3.5°K. If sustained over a period of several years, such a temperature decrease over the whole globe is believed to be sufficient to trigger an ice age.
It's not even predicting cooling.
It's arguing that IF aerosols increase by four times over the course of several years, THEN an ice age might occur. It's silly to read this and think "OH MY GOD SCIENTISTS ARE SAYING THAT ELSA IS GOING TO USE HER ICE MAGIC ON THE ENTIRE PLANET."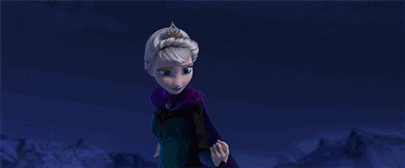 It's more like a scientists carefully considering a possible scenario, and then calculating its outcome. Y'know, like scientists are supposed to do.
So just to reiterate, seven papers published between 1965 and 1979 projected cooling. Forty four papers (more than six times the number of cooling papers) projected warming.
But, Climate Hustle wants us to believe, the scientific community was drumming up fears about global cooling while the nation was dancing the Hustle.
However, since it's a myth the scientific community was pushing a cooling scare in the '70s, what about the occasional media claim that scientists were anticipating that the planet was going to turn into a giant ice rink during that era?
Well, it's simple. Sometimes journalists misinterpret what scientists say and overhype what the scientific community actually believes. For example, around every Christmas, some media outlets misrepresent nutrition science to claim that chocolate is a kind of a health food. But that's not evidence that nutritionists are lying about chocolate in a mocha-flavored attempt at world economic control. It's evidence that journalists are driven more by deadlines and catching eyeballs than by scientific rigor.
Even considering that, there actually were news reports about scientists' concerns about rising global temperatures published in the 1970s — like this one from 1976, entitled, "World's Temperature Likely To Rise."
This was published tweleve years before Morano alleges the official climate narrative changed to "global warming."
Part 4) Shell Game
Climate Hustle takes issue with the idea that shrinking Arctic ice threatens polar bears. "In 1960, as few as 5,000 polar bears roamed the Earth," says a voice over.
Was there actually a scientifically accurate survey of polar bears in 1960 that established that number? Well, no. No, there wasn't. In the 1960s scientists actually had no idea how to accurately count the number of polar bears.
According to Barry Lopez's National Book Award-winning 1986 book, Arctic Dreams:
In 1961, Savva Lipinski speculated that the world population of polar bears was only 5,000. American biologists thought is was more like 17,000 to 19,000 — but no one had any reliable information; nor did the technology to find out exist.
So no one knew, and speculations varied from as low as 5,000 and as high as 19,000. But Climate Hustle misleadingly only offers the lower limit of what was basically a wild guess.
Why is this relevant in the first place? Climate Hustle argues that polar bear populations have grown in recent years. "There are probably five times as many polar bears now as there were in the 1970s," says a talking head. He doesn't quite say where he got the "five times" number. But it shouldn't be a surprise that polar bear populations have grown since the 1970s. In 1973, five nations signed the Agreement on the Conservation of Polar Bears. This agreement regulated the hunting of polar bears and took measures to protect polar bear ecosystems, which (as one would expect) lead to stronger polar bear populations.
This fact is not mentioned in the movie.
And just for the record, Arctic sea ice actually melting faster than projections.
Satisfied with the state of the polar bears, Morano takes on the issue of sea level rise.
"Sea level is not accelerating. It is, if anything, diminishing," says a talking head.
"If you look at the total global sea level from about 1850 until the present time, it's been rising at a fairly constant rate, fairly slow," says another.
Is that accurate?
A paper published in January in the Proceedings of the National Academy of Sciences entitled "Temperature-Driven Global Sea-Level Variability In The Common Era" tackled that very question. It looked at the history of sea level change over the last 3,000 years or so and found that sea level rise has actually stepped on the gas in recent years. The abstract reads, "A significant [global sea level] acceleration began in the 19th century and yielded a 20th century rise that is extremely likely faster than during any of the previous 27 centuries."
So, no. According the most recent and comprehensive study, it is not accurate to say that rising sea levels have slowed.
Next, we move into what is probably the most scientifically responsible section of the movie — though that's an ankle-high bar to jump over.
Morano takes issue with the idea that extreme weather events like hurricanes can be accurately ascribed to man-made climate change. This is basically what many mainstream scientists also believe.
A paper published in Nature in 2010 said:
It remains uncertain whether past changes in tropical cyclone activity have exceeded the variability expected from natural causes.
A more recent statement by the Geophysical Fluid Dynamics Laboratory affirmed that cautious view:
It is premature to conclude that human activities — and particularly greenhouse gas emissions that cause global warming — have already had a detectable impact on Atlantic hurricane or global tropical cyclone activity.
Though neither could rule out the possibility that climate change is having an influence on hurricanes, they didn't feel there was enough evidence to ascribe a causal link.
Climate Hustle next claims that there has been a decades long "pause" in global warming. This should bring great comfort to all those who suffered through last year, which is the hottest year on record.
It should also be a comfort to those who suffered through last month, which was the hottest March on record. In fact, we've seen 11 record hot months in a row. Which itself is a record, breaking the previous streak of 10 months set in 1944.
But has there been an actual hiatus? The data doesn't seem to support that idea. A 2015 paper published in Science examined whether there has actually been a significant slowdown. It found that:
The central estimate for the rate of warming during the first 15 years of the 21st century is at least as great as the last half of the 20th century. These results do not support the notion of a "slowdown" in the increase of global surface temperature.
Part 5 and 6) Limited Time Offer and Presto Chango
In the these sections, Morano expresses his frustration with insistence that the world must "act now" in order to avoid disaster. In this sense, climate change is compared to the Y2K bug and the Mayan calendar apocalypse.
He takes issue with the idea that climate change was changing worldwide events. This also earns a comparison to superstitions. "Witches were once blamed for crop failure," Morano says. "In 1450, Aztec priests encouraged people to sacrifice blood to the gods to end severe drought that decimated corn crops. They ended up sacrificing thousands of people in a few weeks."
He presents other analogies to climate change:
Australian Aborigines who blamed bad climate on the introduction of white people
Syria banning the yo-yo because they thought it caused drought
People who blamed World War II on weather extremes
He fails to offer any examples of people who believed these things because of decades of peer reviewed research. I would be very interested in reading Human Sacrifice's Impact On Agricultural Yields by Moctezuma I as it was published in the Proceedings of the National Academy Of The Aztec Empire.
Morano then circles back to the complaint he made in section four: every extreme weather event has been blamed on climate change.
He makes his case through this segment by showing media reports about climate change — and, to his credit, the complaint that the media sometimes gets climate change reporting wrong is actually shared with many climatologists. Obviously, the important discussion being had isn't between television networks looking for bigger ratings. It's between scientists looking for answers on what's happening to our planet, and why.
If Morano is genuinely concerned about accurate reporting of climate issues, I'd recommend he check out Climatefeedback.org. Basically, it provides a rating about the accuracy of climate change articles from real scientists.
Though I can't imagine Morano would consider scientifically accurate reporting an improvement.
Part 7) The Jig Is Up
In the final section of Climate Hustle, Morano makes the Galileo Gambit. He claims that scientists who go up against Big Climate are met with harsh resistance and insulting comparisons. He shows clips of people comparing climate deniers to Holocaust deniers and people who believe that man never walked on the moon.
"But these tactics are causing quite a backlash," says Morano, who has spent the previous hour comparing scientists and people who believe in climate change to eugenicists, phrenologists, Mayan calendar apocolypse believers, witch hunters, Aztec human sacrificers, and people afraid of yo-yos.
He shows a handful of people who no longer believe in man-made climate change. Among them is Dr. Judith Curry. "I had been pushed out of the mainstream consensus," she says — Which is extremely confusing, because earlier in the evening, Climate Hustle told me that the idea of a consensus was nonsense. This consensus, which the film earlier claimed is "propganda" and "pulled from thin air," somehow weilds the power to push out skeptics. A truly remarkable feat for something that doesn't exist.
We're also told that Nobel Laureate Ivar Giaever had become a skeptic of global warming. That is certainly an impressive get. What exactly persuaded him? In a speech, he said:
I am not really terribly interested in global warming. Like most physicists I don't think much about it. But in 2008 I was in a panel here about global warming and I had to learn something about it. And I spent a day or so — half a day maybe on Google, and I was horrified by what I learned.
With all due respect to Giaever, if googling a subject for half a day made you an authority, then I would be the world's foremost expert on "taco shop near me."
The Blessed End
In the epilogue, Morano threatens a sequel. He promises not to focus on science at all in the next one, but rather the coming Green Tyranny. If he does choose to move forward with Climate Hustle 2: This Time It's Chilly, I have three simple requests.
Fact check.
Fire Mr. Five O'Clock Shadow.
Get a windscreen for your handheld microphone. Seriously, they're like three bucks and will prevent the audio from popping when you say your "p"s.
Or maybe just take a film production class. I know you don't get that Big Oil money like people think you do, but you could probably find a cheap course at your local community college.
If I have to shell out $16.25 again, I want it to be money well spent.